Delicious and flavorful recipe for Apple Sausage Stuffed Butternut Squash. Enjoy a savory blend of sweet apples and savory sausage nestled inside tender roasted squash. Perfect for a cozy and satisfying meal.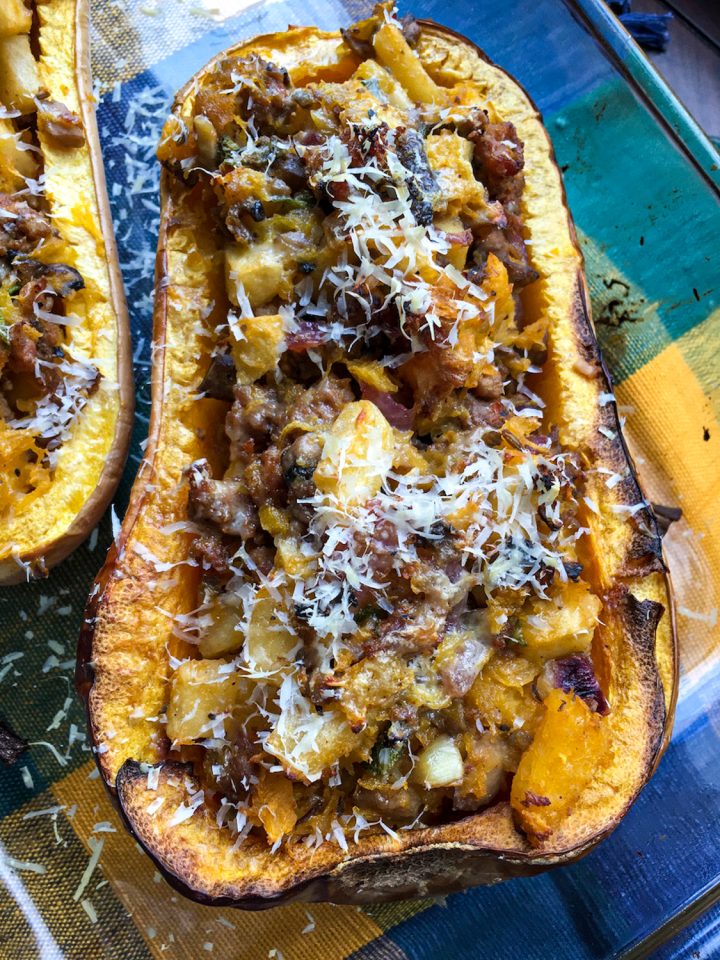 Jump to:
❤️ Why you'll love it
Amazing healthy comfort food with the best fall flavors
Savory and sweet flavors combined in one dish
Tender and flavorful roasted butternut squash
Delectable stuffing made with apple and sausage
Perfect for a comforting and satisfying meal
Impressive presentation for special occasions or family dinners
🧾 Simple Ingredients
Get the full list of ingredients, with measurements, and step-by-step instructions at the bottom of the post in the printable recipe card.
Non-stick cooking spray
Butternut squash
Fresh garlic cloves
Red onions
Baby Portobello mushrooms
Spicy Chicken sausage or Italian sweet sausage
Fresh sage leaves
Green apples
Ground cinnamon
Butter
Parmesan cheese
Fresh parsley
Sea salt and black pepper
🍳 Instructions
Get the full list of ingredients, with measurements, and recipe instructions at the bottom of the post in the printable recipe card.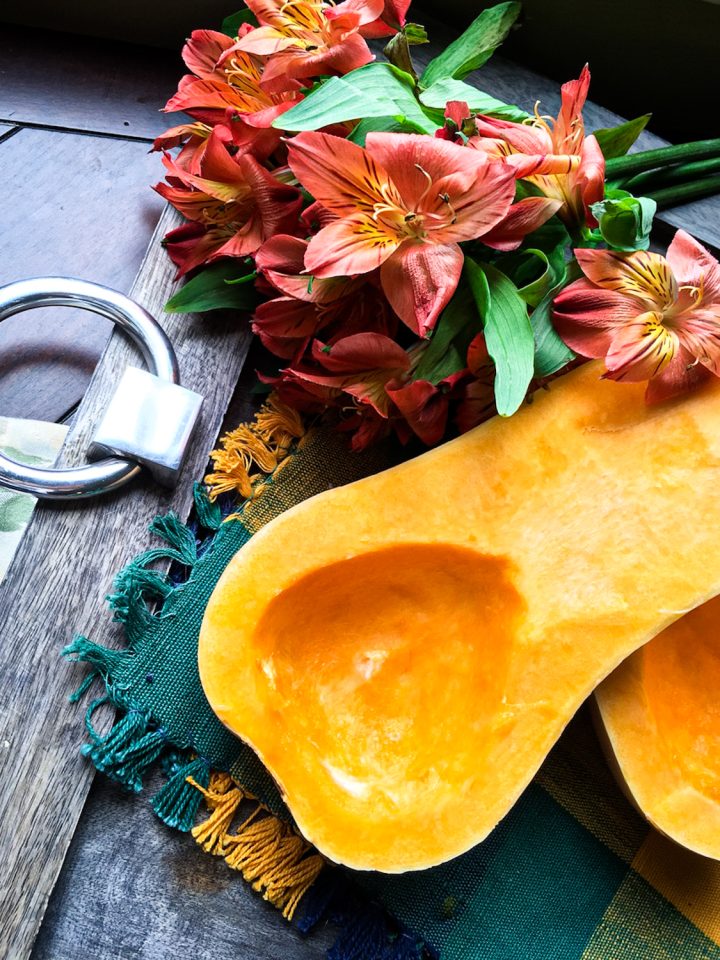 Preheat the oven. Spray the baking sheet. Cut the squash open with a sharp knife. Scoop it out. Spray it with cooking spray. Bake, squash cut side down, until fork tender.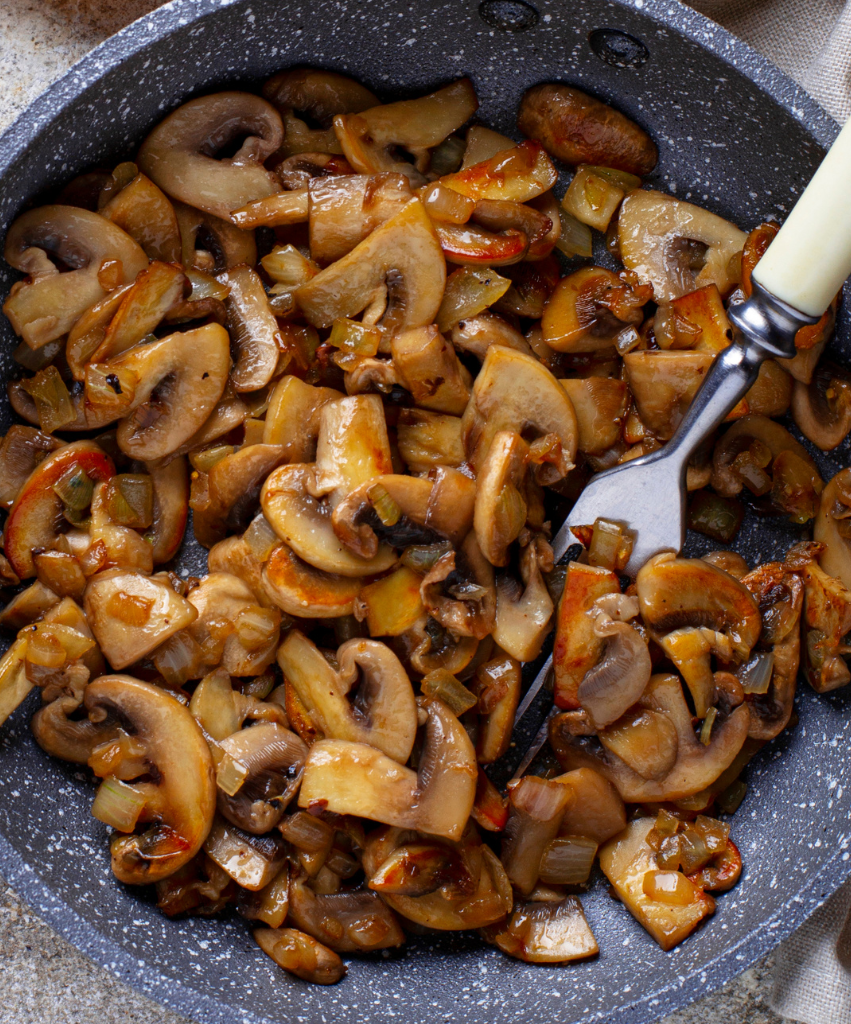 In a large skillet, over medium heat, add cooking spray. Add onions and garlic and cook until soft. Next, add mushroom and cook until it releases its liquid.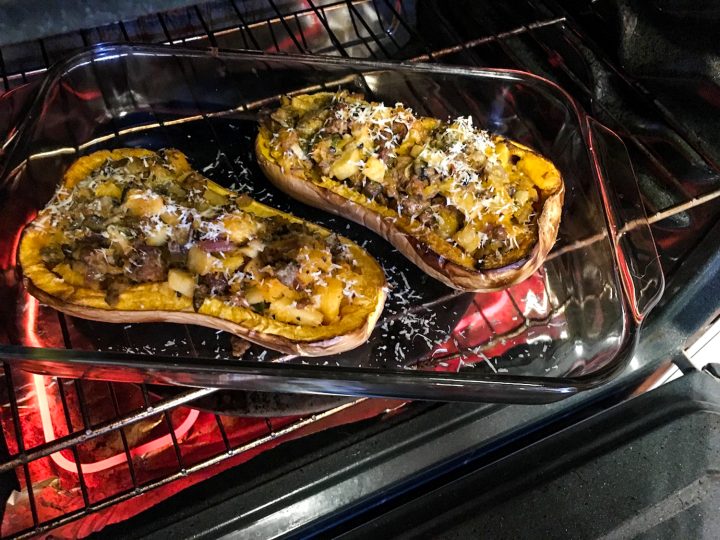 Add sausage and cook until it is no longer pink. Then, add sage, apples and cinnamon. Cook until the apples are soft. Remove from the heat and drain any excess liquid from the sausage mixture. Salt and pepper to taste. When the squash is done, scoop out the inside of the squash and add it to the squash to the apple filling. Stir together. Spoon the mixture into the squash skin and add butter and parmesan on top. Bake until heated through and golden brown.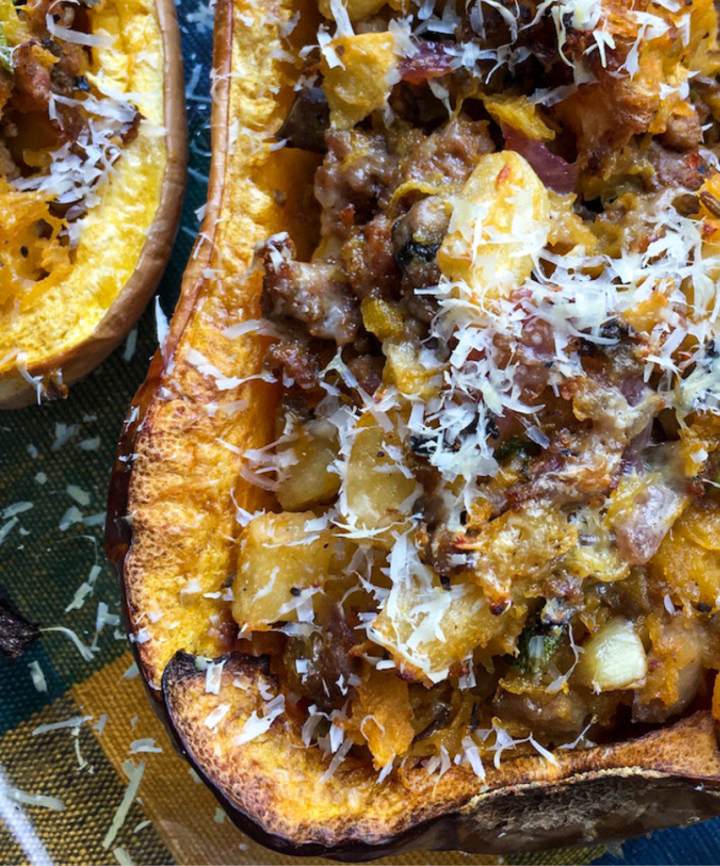 Hint: Enhance the flavors of this squash bake by adding a sprinkle of cinnamon to the stuffing mixture for a warm and aromatic twist on this apple sausage stuffed butternut squash recipe.
🥄 Variations
Vegetarian Option: Replace the sausage with cooked quinoa or lentils for a delicious vegetarian version of stuffed butternut squash.
Cheese Lover's Twist: Sprinkle shredded cheddar or Gruyere cheese over the stuffed squash before baking for a cheesy and melty topping.
Mediterranean Influence: Add chopped sun-dried tomatoes, Kalamata olives, and crumbled feta cheese to the stuffing mixture for a Mediterranean-inspired twist.
Spicy Kick: For those who enjoy heat, incorporate diced jalapeños or red pepper flakes into the stuffing to add a spicy kick to the dish.
Nutty Delight: Mix in chopped walnuts or pecans to the stuffing mixture for a delightful crunch and added nutty flavor.
Herb Infusion: Experiment with different herbs like rosemary, thyme, or sage to infuse the stuffing with aromatic flavors.
🍽️ What to Serve With
Here are some great side dish options to serve alongside this main course:
Green Salad: A refreshing green salad with a light vinaigrette dressing complements the richness of the stuffed squash.
Roasted Vegetables: Serve the squash with a side of roasted Brussels sprouts, carrots, or cauliflower for a flavorful and colorful meal.
Quinoa Pilaf: Pair the dish with a fluffy quinoa pilaf seasoned with herbs and spices for added texture and protein.
Steamed Vegetables: Steamed broccoli, green beans, or asparagus make for a simple and healthy accompaniment to the stuffed squash.
Garlic Mashed Potatoes: Creamy garlic mashed potatoes provide a comforting and indulgent side dish to balance the flavors of the squash.
Cranberry Sauce: A dollop of tangy cranberry sauce adds a burst of sweetness that complements the savory stuffing.
🍶 Storage
Refrigerator Storage:
Place any leftover apple sausage stuffed butternut squash in an airtight container.
Store it in the refrigerator for up to 3-4 days.
Freezer Storage:
If you want to freeze the stuffed squash for later use, wrap it tightly in plastic wrap or aluminum foil.
Place it in a freezer-safe container or resealable freezer bag.
It can be stored in the freezer for up to 2-3 months.
Reheat:
To reheat the refrigerated stuffed squash, preheat your oven to 350°F (175°C).
Remove the squash from the refrigerator and place it in an oven-safe dish.
Cover the dish with foil to prevent drying out and heat it in the oven for about 20-25 minutes or until heated through.
Alternatively, you can microwave individual portions for 2-3 minutes, but the texture may not be as crisp as when baked.
For frozen stuffed squash, thaw it in the refrigerator overnight before reheating using the same methods mentioned above.
Remember to always check the internal temperature of the squash to ensure it's heated thoroughly before serving.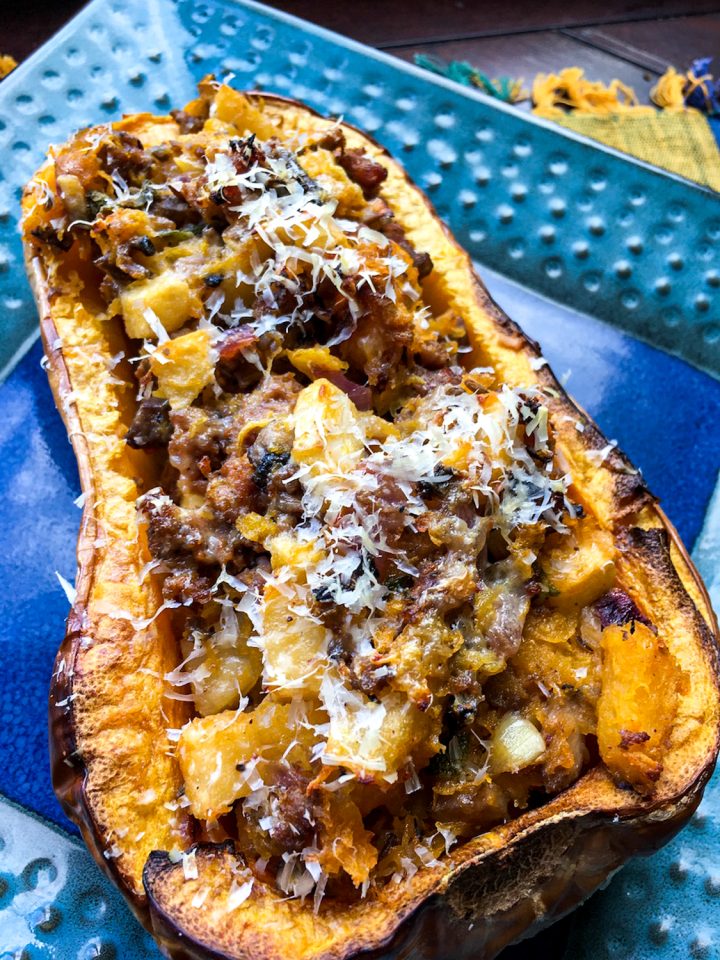 💭Top Tips
Choose the right squash: Look for a butternut squash that is firm and heavy for its size, with a smooth and unblemished skin. This ensures the best flavor and texture.
Precook the squash: To make it easier to stuff and ensure even cooking, pre-roast the butternut squash halves for about 15-20 minutes in the oven before adding the stuffing.
Sauté the filling ingredients: Sauté the apples, sausage, and any other ingredients in a skillet before stuffing the squash. This helps enhance the flavors and ensures everything is cooked through.
Don't overstuff: Be careful not to overstuff the squash, as it can lead to uneven cooking and difficulty in serving. Leave some space for the filling to expand as it cooks.
❔FAQs
Can I substitute the apples with a different fruit?
While apples provide a delicious and sweet contrast to the savory sausage, you can experiment with other fruits like pears or dried cranberries for a different flavor profile. Just ensure that the fruit you choose complements the other ingredients in the stuffing.
Can I use a different type of sausage for the stuffing?
Absolutely! While the recipe suggests using apple sausage, you can experiment with other types of sausage, such as Italian sausage, breakfast sausage, or even a vegetarian sausage substitute, depending on your preferences and dietary restrictions.
How Many WW Points
This recipe comes in at 5 points per serving. The portion size is huge and can easily be made into smaller portions and that can make the points even lower.
This is a direct link to the recipe in the WW recipe builder app. You can see the recipe as well as add it to your daily food tracker. This only works for WW members in the US. If you are outside of the US, you will need to enter it manually.
Have you joined our Weight Watchers Facebook Group? Free recipes and support. Perfect for everyone!
Need to change the number of servings? You can click on the number of servings and change the number. This will adjust the ingredient measurements to what you need.
If you love this recipe, come back and give it 5 stars! ⭐️⭐️⭐️⭐️⭐️
More Delicious Recipes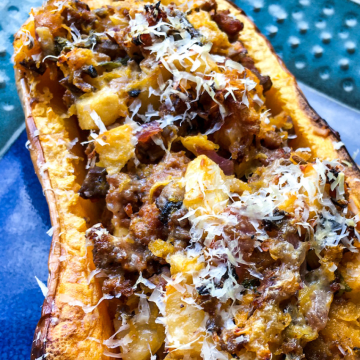 Apple Sausage Stuffed Butternut Squash
Delicious and flavorful recipe for Apple Sausage Stuffed Butternut Squash. Enjoy a savory blend of sweet apples and savory sausage nestled inside tender roasted squash. Perfect for a cozy and satisfying meal.
Ingredients
Non-stick cooking spray

2

butternut squash

cut in half, seeds and pulp removed

3-4

cloves

fresh garlic

peeled and finely minced

½

red onion

chopped

1½

cup

baby Portobello mushrooms

cleaned and sliced

1

lb.

chicken sausage

or spicy bulk Italian sausage

2

Tbsp

fresh sage leaves

julienned

2

medium

apples

peeled, cored, and chopped into small chunks

2

tsp

ground cinnamon

2

Tbsp

cold lite butter

cut into small chunks

Parmesan cheese

freshly grated

Fresh parsley

chopped for garnish

Sea salt and black pepper

to taste
Instructions
Place top oven rack in the center position and pre-heat oven to 375°F.

Spray two 13 x 9" glass baking dishes with non-stick cooking spray. Place butternut squash halves in glass dishes, cut side up. Spray with cooking spray

Place both dishes in pre-heated oven. Bake until soft enough to scoop out interior with a spoon, approximately 45-50 minutes. (Actual baking time will vary depending on individual oven temperature, size of squash, and how ripe it is).

While the squash is baking, spray the pan with cooking spray, add garlic and onion to a large skillet set over medium heat. Sauté, stirring occasionally, until the onion softens and starts to develop some color, approximately 4-5 minutes.

Add mushrooms and cook, stirring occasionally, until they develop some color and start to release their liquid, approximately 4-5 minutes.

Add the sausage to the skillet and cook until it is mostly brown, approximately 6-8 minutes. Break the sausage apart with a spatula or wooden spoon while it cooks.

Add fresh sage, chopped apples, and cinnamon. Continue cooking over medium heat for 2-3 minutes or until apples soften, stirring occasionally.

Remove from heat and drain excess liquid from skillet, if necessary. Season with salt and black pepper, to taste. Stir to combine and set aside.

When ready, remove squash from oven and cool slightly. Reduce oven temperature to 350°F.

Transfer the squash, one at a time, to a cutting board. With a sharp knife, trace a ½" inch border around the perimeter of each squash. Scoop out all of the squash inside the border and reserve the cooked flesh in a large bowl. Be careful not to puncture the exterior of the squash skin during this process. When finished, return each empty squash shell to a baking dish.

Cut the cooked squash into bite-sized chunks and add to apple-sausage mixture. Gently fold together until all ingredients are thoroughly combined.

Spoon apple-sausage mixture into empty squash shells and top each with chunks of butter and freshly grated Parmesan cheese.

Place in oven and bake for 25-30 minutes or until filling is warmed through and nicely browned. Remove from oven and top with additional Parmesan cheese and chopped fresh parsley, if desired, before serving. Enjoy!
Notes
For less heat, use ½ pound spicy and ½ pound mild Italian sausage. If you prefer a sweeter dish, add more brown sugar prior to baking.