For a meal that's guaranteed to delight and satisfy, it's hard to beat these Avocado Baked Eggs. The creamy avocado pairs perfectly with the richly flavored egg, for a nutritious combination that will take your ordinary breakfast up a notch.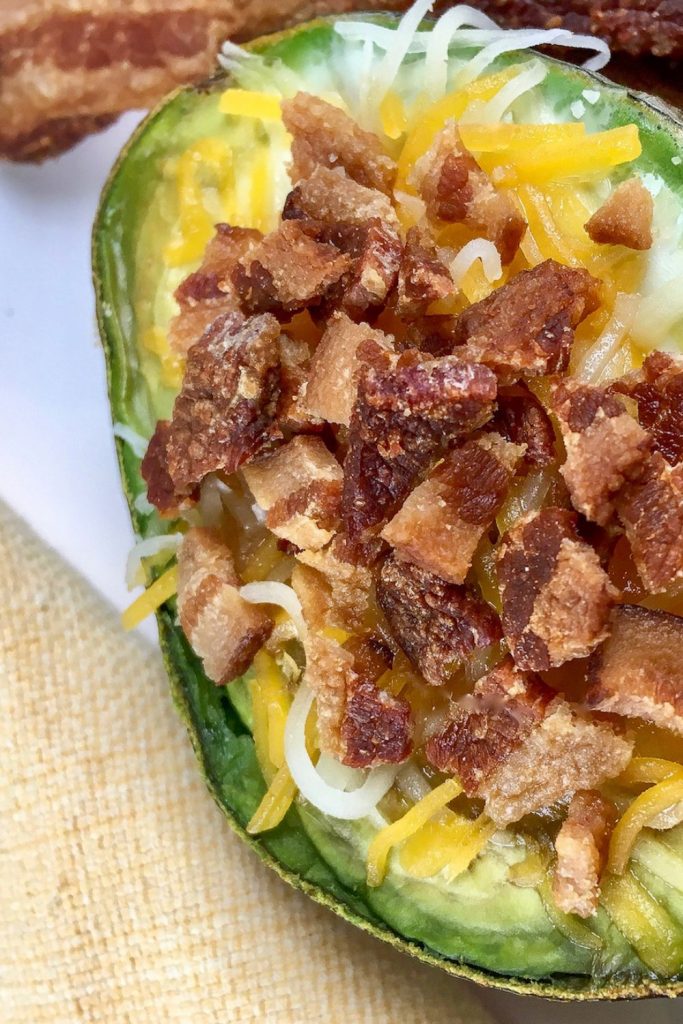 Jump to:
❤️ Why you'll love it
This combination of flavors makes a delicious, nutritious meal with healthy fats.
It's easy to prepare with minimal ingredients.
These are always cooked just right - never overcooked or dry.
You can top it with any toppings you like - variations are endless.
🥘 Equipment
🧾 Ingredients
Get the full list of ingredients, with measurements, and step-by-step instructions at the bottom of the post in the printable recipe card.
Ripe Avocados
Large Eggs
Salt and black pepper
Cheddar Jack Cheese
Bacon
🍳 Instructions
You will find complete step-by-step instructions in the recipe card that's at the bottom of the post.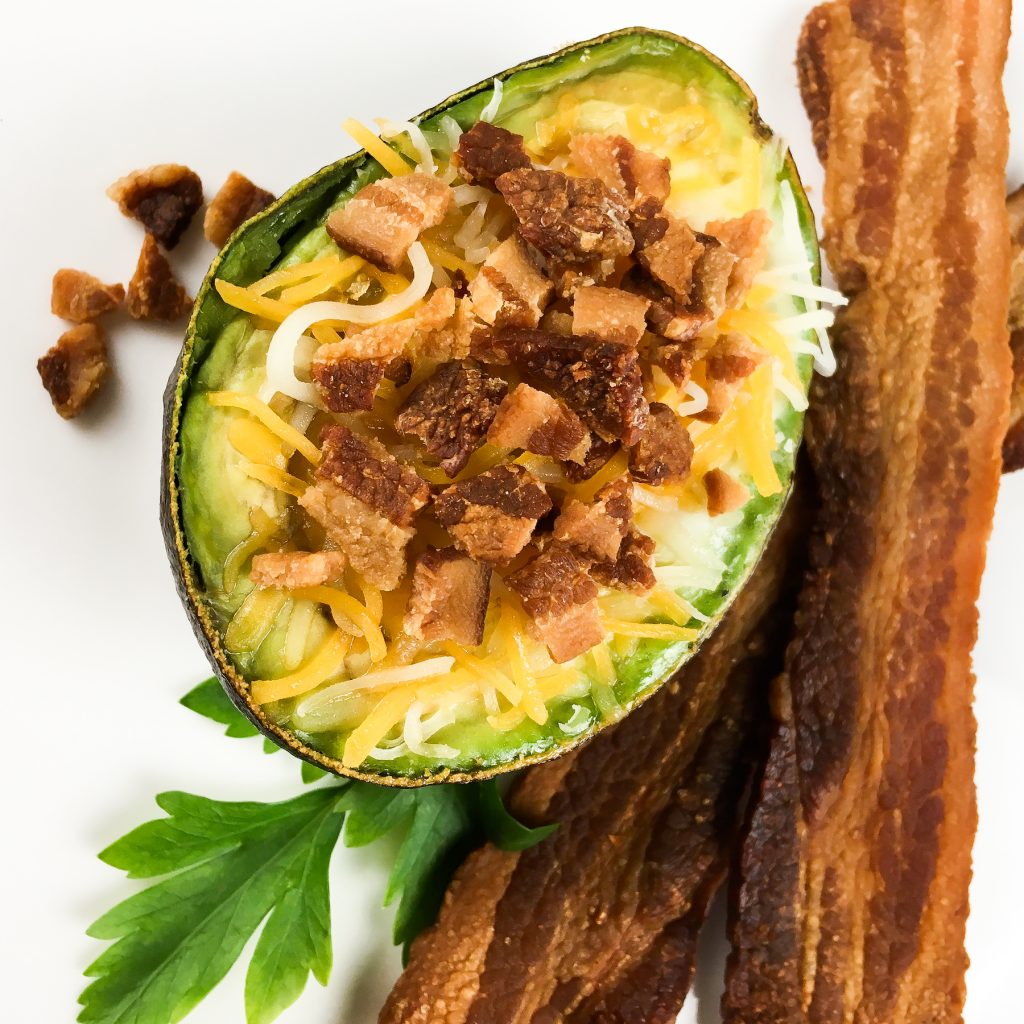 Cut avocados in half lengthwise and remove the pits. Use a spoon to remove some of the avocado flesh to make more space for the egg.

Crack an into a small bowl and then carefully pour it into the avocado half and place avocado on a baking sheet. Top with extra avocado.

Bake for 20-25 minutes depending on how you like your eggs. Top with green onions and herbs.
🥄 Variations
For a Tex-Mex twist, top with your favorite salsa or diced tomatoes and hot sauce..
For a spicy kick, some chili powder to the mix is a great addition.
If you're feeling adventurous, try adding cooked bacon and cheese before baking them in the oven.
Top with fresh chopped cilantro for a touch of zesty flavor.
For a heartier meal, add some cooked sausage to the mix.
You can add any of your favorite ingredients such as cooked bacon, cheese, chopped vegetables, herbs, etc., to this. Just make sure that you do not over stuff them so that they can cook evenly.
🥚 Additional Toppings
goat cheese
feta or goat cheese
chives
cilantro
salsa orpico de Gallo
Canadian bacon
diced ham
crumbled sausage
🍽️ What to Serve With
Serve these with a side of toast or our Bacon Breakfast Casserole.
A side salad or fresh fruit also makes a great accompaniment.
For added protein and crunch, add some chopped nuts or seeds to the meal.
🍶 Storing
This can be a delicious breakfast or lunch in the fridge for the next day. You can keep it for up to 3 days.
Refrigerator: Store the leftovers in an airtight container in the refrigerator. You can also wrap it with plastic wrap.
Freezer: I don't recommend freezing.
Reheat: To reheat, pop it in the oven at 350 degrees Fahrenheit for about 10 minutes. It can also be reheated in the microwave.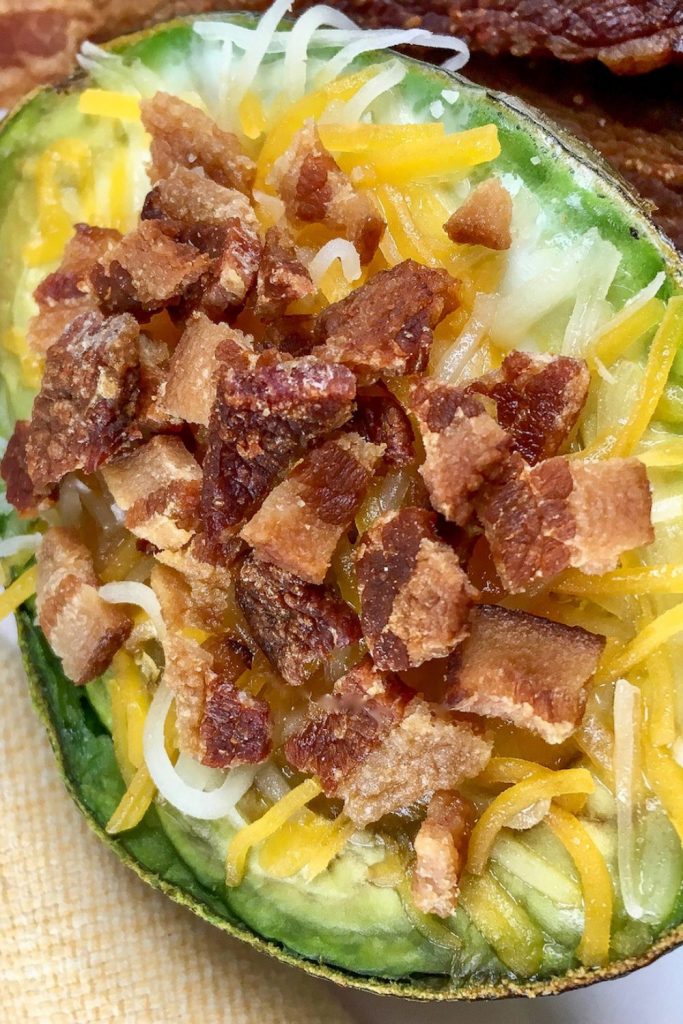 💭Top Tips
Make sure to use room temperature ripe fresh avocados, as they will be easier to work with and provide a creamier texture.
Use extra large avocados and medium-sized eggs. Otherwise, the egg whites might overflow from the avocados.
Crack the eggs into a small bowl before pouring them into the avocado. This helps to prevent spilling.
Don't over-stuff the halves so that the egg can cook evenly.
And if you are looking for other ways to use your avocados, make sure to check out our Mexican Chopped Salad with a Creamy Avocado Dressing.
❔FAQs
What happens if you bake avocado?
They have a creamy texture and are delicious when topped with cheese, bacon, or any other favorite toppings.
What do avocado and egg do to your body?
They are great sources of healthy fats, protein, and vitamins. They provide essential nutrients to help your body stay energized throughout the day. Eating avocado and eggs can also help improve digestion, boost your immune system, and reduce inflammation.
Can you eat an avocado that has been cut for more than a few hours?
Yes, you can. It oxidizes quickly when exposed to air and will turn brown, however, it is still safe to eat. To prevent oxidation, cover the avocado with plastic wrap or cover the cut side with lemon juice or vinegar before storing it in the fridge.
Is this recipe low-carb?
These are low in carbs. It comes in at 2 net carbs per serving.
Can Baked Avocado Eggs be made in the Air Fryer
Yes. Be sure to use a baking dish that can be used in the air fryer and bake until the egg reaches the right doneness. If you like runny eggs, cook for less time.
Need to change the number of servings? You can click on the number of servings and change the number. This will adjust the ingredient measurements to what you need.
If you love this recipe, come back and give it 5 stars! ⭐️⭐️⭐️⭐️⭐️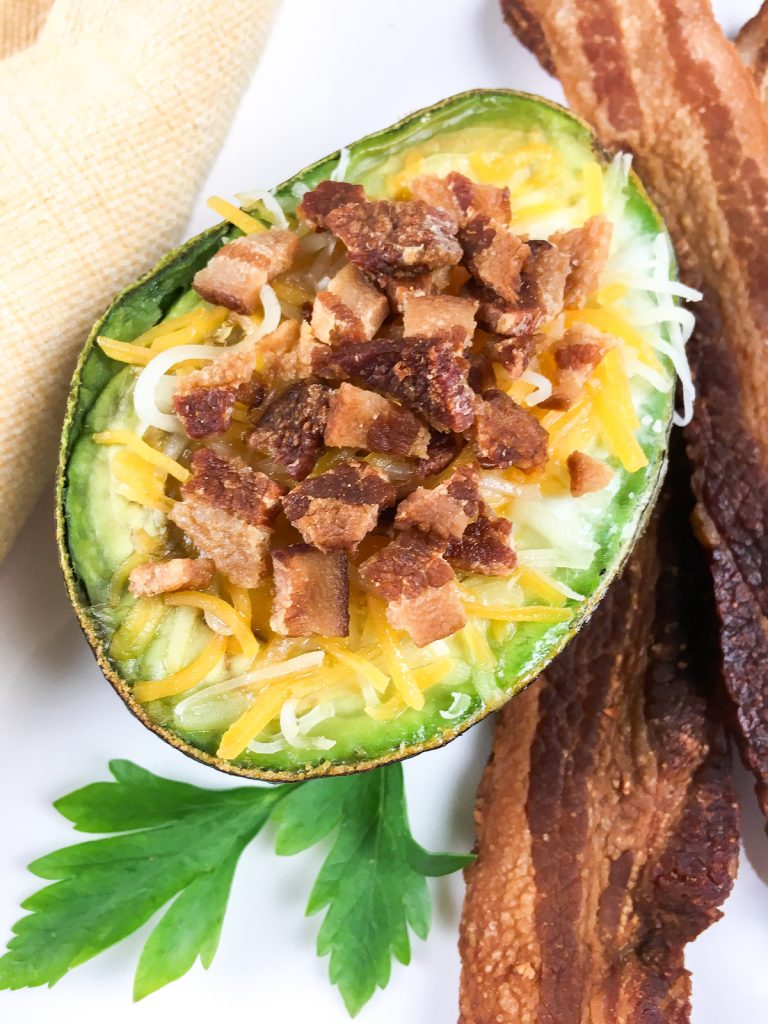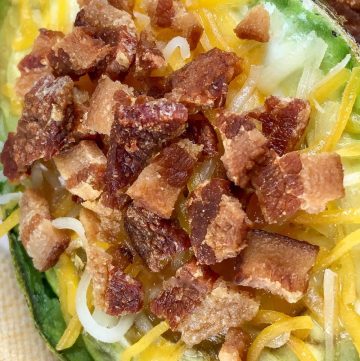 Loaded Avocado Baked Eggs
For a meal that's guaranteed to delight and satisfy, it's hard to beat these Baked Avocado Eggs. The creamy avocado pairs perfectly with the richly flavored egg, for a nutritious combination that will take your ordinary breakfast up a notch.
Ingredients
2

large

ripe avocados

4

medium

eggs

Salt and black pepper

to taste

½

cup

Cheddar Cheese

shredded

3

strips

center cut bacon

cooked crispy and crumbled
Instructions
Preheat oven to 350° F and line a rimmed baking sheet with parchment paper.

Cut avocados in half lengthwise and remove the pits. Use a spoon to carefully remove some of the avocado flesh around the pit to create more space for the egg. Reserve removed flesh for another use (or smash, season with salt and pepper to taste, and top each baked avocado half with a spoonful before serving).

Crack one egg into a small bowl and then carefully transfer the egg into one of the prepared avocado halves. Place the filled avocado onto the prepared baking sheet and repeat this process with the remaining avocado halves and eggs. Season each with salt and black pepper, to taste.

Place filled avocado halves in pre-heated oven to bake for 20-25 minutes, or until the eggs are cooked according to your preference.

Remove from oven and top each avocado half with shredded Cheddar Jack cheese and crispy bacon pieces. Garnish with chives or sliced green onions, if desired, and serve immediately. Enjoy!
Have you joined our Weight Watchers Facebook Group? Free recipes and support. Perfect for everyone!
How Many WW Points in this Recipe
This comes in at 5 points per serving. It might seem a little high but this recipe is so filling and filled with healthy fats that will keep you going all day long.
This is a direct link to the recipe in the WW recipe builder app. You can see the recipe as well as add it to your daily food tracker. This only works for WW members in the US. If you are outside of the US, you will need to enter it manually.