Savor the perfect blend of wholesome oats, crunchy nuts, and sweet-tart blueberries in our irresistible Blueberry Granola. Start your day with a burst of fruity goodness and energize your mornings with this delectable breakfast treat.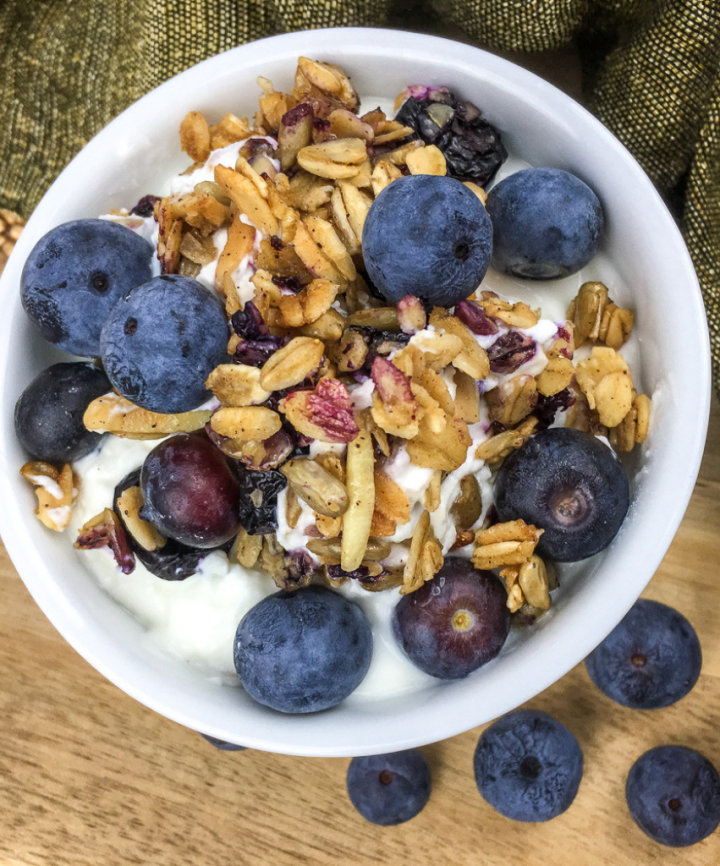 Jump to:
❤️ Why you'll love it
Bursting with Blueberries: Blueberry Granola is generously packed with plump, juicy blueberries that bring a burst of fruity flavor to every bite. Each spoonful is a delightful treasure trove of vibrant sweetness.
Perfectly Crunchy: Get ready for a satisfying crunch that will make your mornings extra special. Our granola is carefully crafted to achieve the ideal texture, with clusters that are crisp, golden, and oh-so-addictive.
Wholesome Ingredients: We believe in fueling your day with goodness. That's why our Blueberry Granola is made with wholesome ingredients like nutritious oats, crunchy nuts, and a touch of natural sweetness. It's a guilt-free indulgence that nourishes your body and delights your taste buds.
Versatile and Delicious: Not only is our Blueberry Granola a fantastic breakfast option, but it also makes for a versatile ingredient. Sprinkle it over yogurt, blend it into smoothies, or use it as a delightful topping for desserts. The possibilities are endless!
Energizing Start: Kickstart your day with a bowl of our Blueberry Granola, and you'll feel energized and ready to conquer whatever lies ahead. It's a wholesome and delicious way to fuel your body and set a positive tone for the day.
🧾 Ingredients
Get the full list of ingredients, with measurements, and step-by-step instructions at the bottom of the post in the printable recipe card.
Baking Spray
Sugar free maple syrup
Pure vanilla extract
Rolled oats
Slivered almonds
Sunflower seeds
Dried dates
Ground cinnamon
Sea salt
Fresh blueberries
🍳 How to Make Blueberry Granola Recipe
Get the full list of ingredients, with measurements, and step-by-step instructions at the bottom of the post in the printable recipe card.
Preheat the oven and line a baking tray with parchment paper.
In a large mixing bowl, combine the maple syrup and vanilla. Add several sprays of baking spray oil over the mixture. Add the oats, nuts, seeds, dates, and seasoning. Stir together. Gently fold in the blueberries. Spread the mixture out on the parchment-lined baking sheet in a thin layer. Spray the top of the oat mixture again with baking spray. Bake for 10 minutes. Stir and bake for another 10 minutes.
Remove and let cool completely
Hint: If you are avoiding processed sugars, you can also use pure maple syrup, agave syrup or even brown sugar.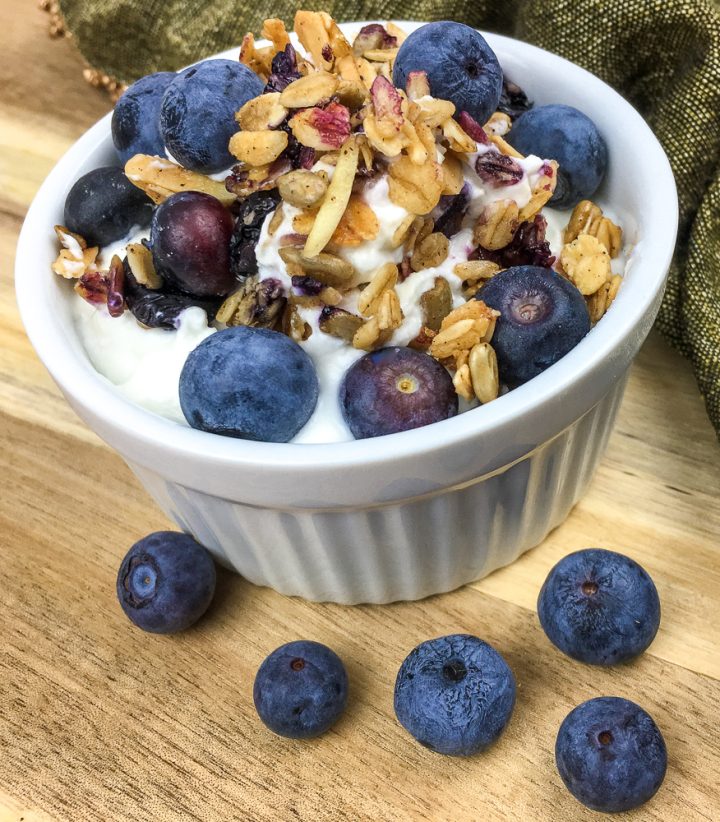 🥄 Variations
Nutty Delight: Add a crunchy twist to your Blueberry Granola by incorporating a variety of nuts. Try tossing in some chopped almonds, walnuts, or pecans for an extra burst of flavor and texture. It's a nutty delight that will take your granola to the next level.
Coconut Paradise: For a tropical twist, mix in some shredded coconut before baking. The toasty coconut flakes will add a deliciously sweet and slightly nutty flavor to your Blueberry Granola. It's like a mini vacation in a bowl!
Chocolate Infusion: If you're a chocolate lover, why not indulge your cravings by adding some dark chocolate chips or cocoa nibs to the mix? The combination of rich chocolate and tangy blueberries creates a heavenly flavor duo that will satisfy your sweet tooth.
Seedy Boost: Boost the nutritional profile of your granola by incorporating an assortment of seeds. Sprinkle in some organic chia seeds, flax seeds, or pumpkin seeds for added crunch and a dose of wholesome goodness. Your body will thank you!
Spiced Sensation: Elevate the flavor profile of your Blueberry Granola with a sprinkle of warm spices. Experiment with cinnamon, nutmeg, or cardamom to add a cozy and aromatic twist. It's a spiced sensation that will make your taste buds dance with delight.
🍽️ What to Serve With the Best Blueberry Granola for a Wholesome Breakfast
Creamy Yogurt Parfait: Create a delightful parfait by layering Blueberry Granola with your favorite creamy yogurt. Alternate between spoonfuls of yogurt and granola to enjoy a harmonious combination of textures and flavors. Top it off with fresh blueberries or a drizzle of honey or agave syrup for an extra touch of sweetness.
As Cereal: Serve a bowl of Blueberry Granola with a splash of cold milk or your preferred non-dairy alternative. It's perfect for busy mornings. The milk will soften the granola slightly while enhancing its flavors. Enjoy the delightful contrast of the crunchy granola with the creamy liquid.
Smoothie Bowl Topping: Take your smoothie bowl to the next level by sprinkling Blueberry Granola on top. The granola adds a satisfying crunch and complements the creamy smoothie base perfectly. It's a delicious way to add texture and depth to your smoothie bowl creation.
Fresh Fruit Medley: Create a vibrant fruit salad and use Blueberry Granola as a delightful topping. Combine your favorite fresh fruits, such as strawberries, bananas, and kiwi, in a bowl. Sprinkle a generous amount of granola on top for a crunchy and fruity experience.
Ice Cream Sundae Upgrade: Elevate your ice cream sundae game by sprinkling Blueberry Granola over a scoop of your favorite ice cream flavor. The granola adds a delightful crunch and complements the creamy sweetness of the ice cream. Don't forget to top it off with whipped cream and a cherry for the ultimate indulgence.
🍶 Storing a Batch of Granola
Refrigerator Storage: Blueberry Granola can be stored in an airtight container or resealable bag in the refrigerator. This helps to maintain its freshness and extend its shelf life. Make sure the container is tightly sealed to prevent moisture from affecting the granola mixture texture.
Freezer Storage: If you want to prolong the shelf life of your Blueberry Granola, you can store it in the freezer. Transfer the granola to a freezer-safe container or resealable bag and ensure it is tightly sealed to prevent freezer burn. Properly stored, Blueberry Granola can last for several months in the freezer.
Reheating: Blueberry Granola is typically enjoyed cold or at room temperature, but if you prefer it warm, you can gently reheat it in the oven or microwave. Spread the desired amount of granola on a baking sheet and warm it in a preheated oven at a low temperature (around 250°F/120°C) for a few minutes until it reaches your desired warmth. Alternatively, you can microwave it in short intervals, stirring in between, until it reaches the desired temperature. Be cautious not to overheat it, as it can become too crispy or lose its texture.
Remember to let the reheated granola cool down before enjoying it, as it may be hot immediately after reheating.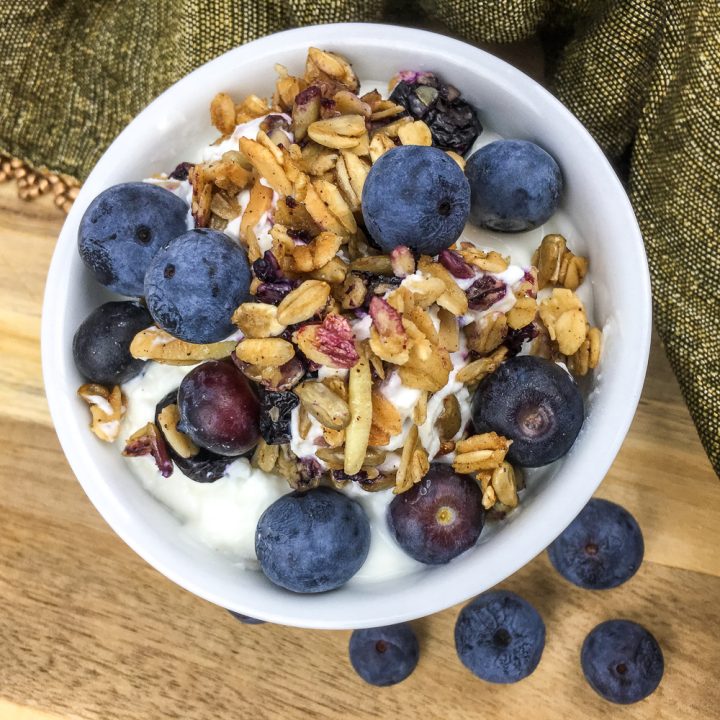 💭Top Tips for Healthy Blueberry Granola
Customize Your Mix: Feel free to experiment with your Blueberry Granola by adding your favorite mix-ins. Consider adding dried cranberries, chopped dried apricots, or even a sprinkle of cinnamon to enhance the flavors and create your own signature blend.
Avoid Over-Baking: Keep a close eye on your granola while it's baking to prevent it from becoming too dark or burnt. Stir the mixture occasionally during baking to ensure even browning and to prevent any clumps from forming.
Cool Completely: Allow your Blueberry Granola to cool completely before storing it. This helps it retain its crunchy texture and prevents it from becoming soggy.
Portion and Package: Consider portioning your Blueberry Granola into individual servings or snack-sized bags for convenient grab-and-go options. This makes it easy to enjoy as a quick and nutritious snack wherever you go.
Revive Stale Granola: If your granola has lost its crispness over time, you can revive it by spreading it on a baking sheet and toasting it in a preheated oven at a low temperature for a few minutes. Keep a close eye on it to avoid over-toasting.
Use in Recipes: Blueberry Granola isn't just for breakfast or snacking. Get creative and use it as a crunchy topping for desserts like ice cream, and top of yogurt parfaits, or even as a crust for fruit tarts. The possibilities are endless!
❔FAQs
Can I make Blueberry Granola without using an oven?
While baking is the traditional method for making granola, it is possible to make a stovetop or no-bake version of Blueberry Granola. Stovetop granola involves toasting the ingredients in a skillet, while no-bake granola involves combining the ingredients and letting them set in the refrigerator.
How Many WW Points in Homemade Granola Recipe
This easy homemade blueberry granola comes in at 4 points per serving. Granola, while healthy because it is filled with fiber and whole grains that keep you feeling full and energized, is always higher in points. It is a great trade-off though.
This is a direct link to the recipe in the WW recipe builder app. You can see the recipe as well as add it to your daily food tracker. This only works for WW members in the US. If you are outside of the US, you will need to enter it manually.
Have you joined our Weight Watchers Facebook Group? Free recipes and support. Perfect for everyone!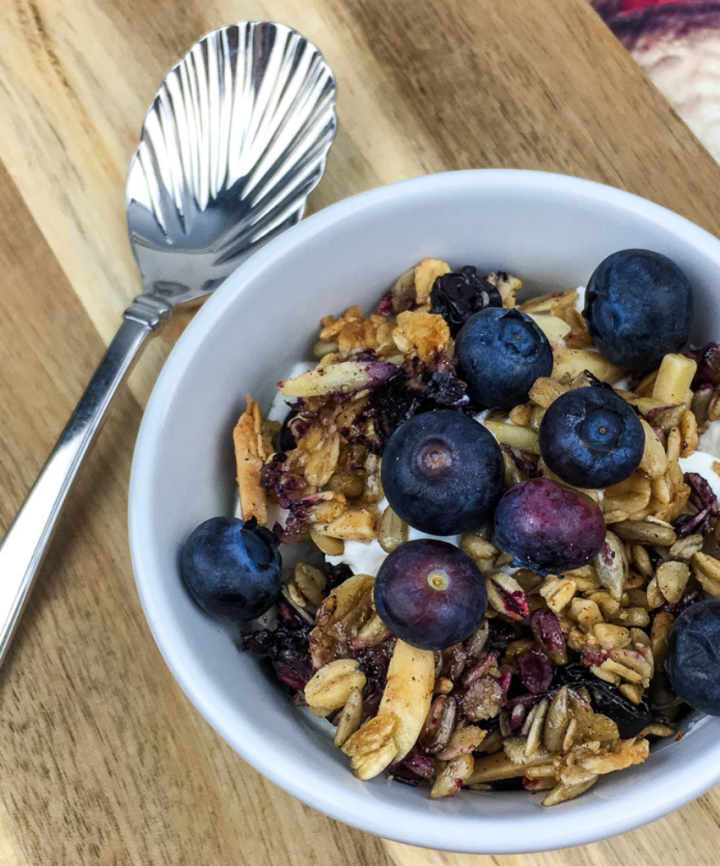 Need to change the number of servings? You can click on the number of servings and change the number. This will adjust the ingredient measurements to what you need.
If you love this recipe, come back and give it 5 stars! ⭐️⭐️⭐️⭐️⭐️
More Delicious Breakfast Recipes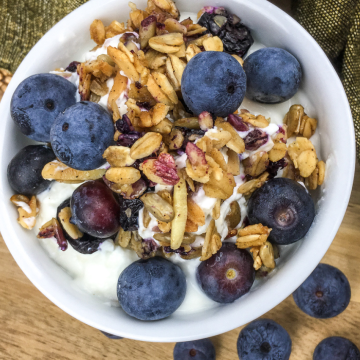 Blueberry Granola
Savor the perfect blend of wholesome oats, crunchy nuts, and sweet-tart blueberries in our irresistible Blueberry Granola. Start your day with a burst of fruity goodness and energize your mornings with this delectable breakfast treat.
Ingredients
Baking Spray

3

Tbsp

sugar free maple syrup

1

tsp

pure vanilla extract

1¼

cup

rolled oats

¼

cup

slivered almonds

¼

cup

sunflower seeds

¼

cup

dried dates

pitted and chopped

1

tsp

ground cinnamon

¼

t.

salt

1¼

c.

fresh blueberries

divided
Instructions
Pre-heat oven to 375°F and line a large, rimmed baking sheet with parchment paper or a Silpat® baking mat. Set aside.

In a large mixing bowl, whisk the maple syrup, and vanilla extract until combined. Add several sprays of baking spray to the mixture. Add the oats, almonds, sunflower seeds, dates, cinnamon, and salt. Stir until the dry ingredients are lightly coated in the mixture.

Gently fold in one cup blueberries, and then transfer the mixture onto the prepared baking sheet. Spread the granola into a thin, uniform layer. Spray the top of the granola with baking spray.

Place the baking sheet into the pre-heated oven and bake for 10 minutes. Remove from oven and give the granola a good stir. Return to oven and bake for another 10 minutes before stirring again. If necessary, return to oven for another 5 minutes or until the oats are golden brown. Do not overcook or the granola may become bitter.

Remove from oven and cool completely. The granola will become nice and crispy as it cools. Once cooled, serve with coconut yogurt and the remaining fresh blueberries. Enjoy!