Refreshingly tangy and crisp, this Dill Cucumber Salad is a delightful blend of fresh cucumbers, aromatic dill, and a zesty dressing. Perfect as a side dish or a light summer snack, this salad bursts with flavor and offers a cool, crunchy texture. Try our recipe today and savor the refreshing taste of this classic salad.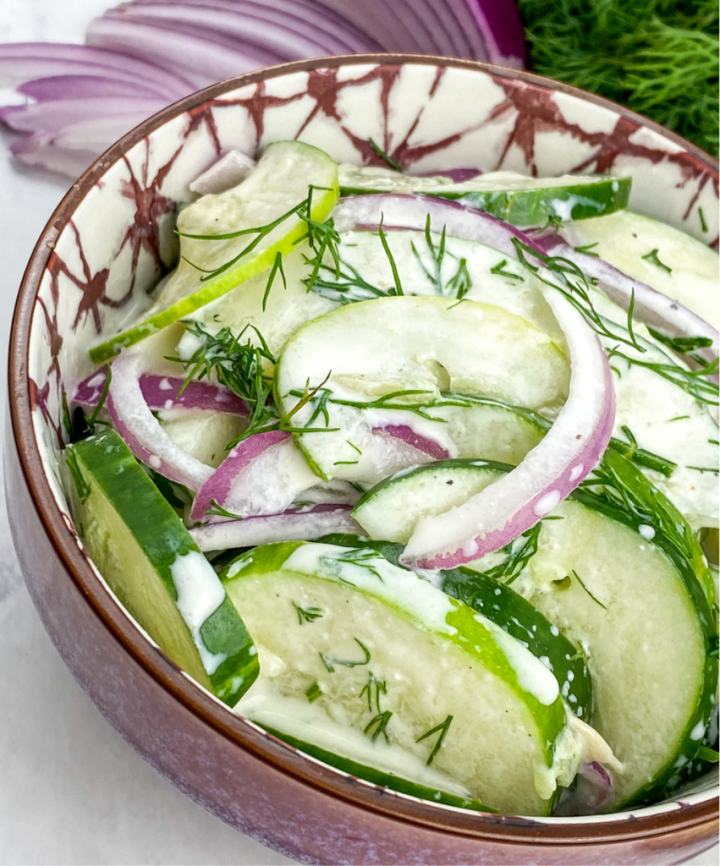 Jump to:
❤️ Why you'll love Classic Cucumber Salad
This is one of my favorite recipes. Whether it is for a simple way to use fresh garden cucumbers or as a great addition to a light dinner on a hot summer day, this is a great way to make a simple side dish.
Crisp and refreshing: Dill Cucumber Salad is the epitome of summer freshness, with crunchy cucumbers in a creamy dressing that offers a satisfying bite.
Bursting with flavor: The combination of aromatic dill and zesty dressing creates a symphony of flavors that will leave your taste buds tingling.
Quick and easy: This salad comes together in no time, which makes it a perfect choice for a quick and healthy meal or a potluck gathering.
Versatile and adaptable: Enjoy it as a side dish, or a light lunch, or pair it with grilled meats for a balanced and flavorful meal.
Healthy and nutritious: Cucumbers are low in calories and packed with hydration, while dill adds a dose of antioxidants and vitamins to the mix.
A crowd pleaser: Whether you're hosting a party, favorite bbq side dishes or simply treating yourself, this salad is guaranteed to impress guests and satisfy your cravings.
🧾 Fresh Ingredients for Quick Cucumber Salad
Get the full list of ingredients, with measurements, and step-by-step instructions at the bottom of the post in the printable recipe card for this delicious cucumber salad.
Fat Free Greek yogurt
Fat Free Sour cream
Fresh lemon juice
Fresh dill
Garlic powder
Salt and black pepper
Cucumber slices
Red onion or white onions
🍳 How to Make Tangy Cucumber Salad
Get the full list of ingredients, with measurements, and step-by-step instructions at the bottom of the post in the printable recipe card.
Make the dressing by whisking the ingredients together in a medium bowl. Season to taste.
Next, in a large bowl, add the sliced cucumber, sliced onion, and fresh dill. Pour the dressing over the top and toss to combine. Refrigerate immediately or refrigerate for up to 2 hours.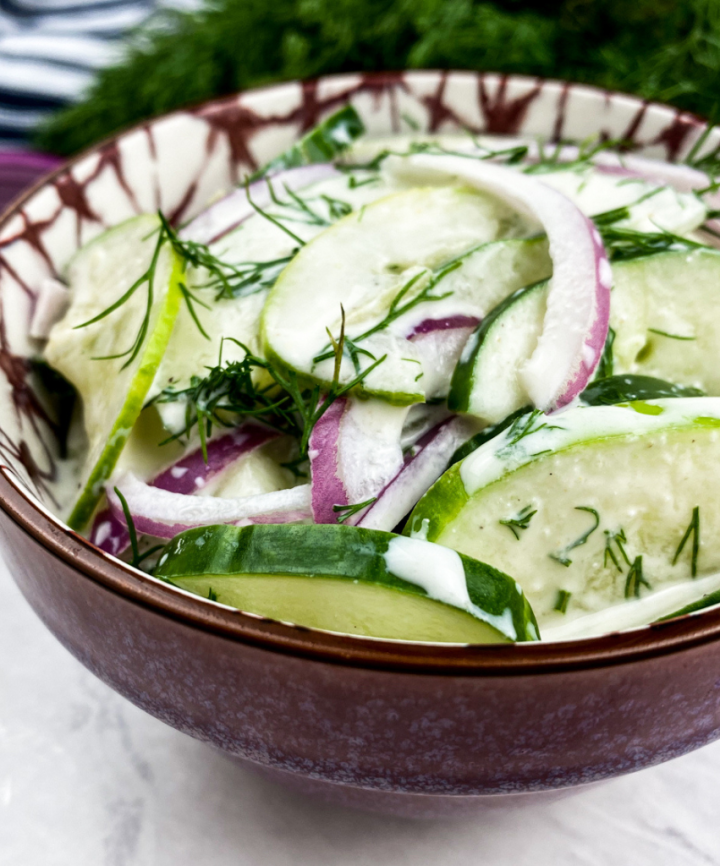 🥄 Variations to Delicious Creamy Cucumber Salad
Mediterranean Cucumber Salad: Toss in some cherry tomatoes, red onions, Kalamata olives, and crumbled feta cheese for a Mediterranean twist that bursts with savory flavors.
Spicy Dill Cucumber Salad: Kick up the heat by adding sliced jalapeños or a sprinkle of red pepper flakes for a zesty and fiery variation.
Asian-inspired Cucumber Salad: Incorporate soy sauce, rice vinegar, sesame oil, and a touch of honey for a tangy and umami-packed Asian-inspired flavor profile.
Herbed Cucumber Salad: Experiment with different herbs like mint, parsley, or cilantro to infuse the salad with fresh and aromatic notes.
Pickled Cucumber Salad: Give your cucumbers a tangy twist by pickling them in vinegar, water, sugar, and spices before tossing them into the salad mixture.
Avocado Cucumber Salad: Add some creamy avocado slices to the mix for a buttery texture and an extra dose of healthy fats.
Grilled Cucumber Salad: Slice the cucumbers and lightly grill them for a smoky flavor, then combine them with dill and a tangy vinaigrette for a unique and charred variation.
🍽️ What to Serve With Easy Cucumber Onion Salad
Grilled Meats: The fresh and tangy flavors of the Dill Cucumber Salad pair wonderfully with grilled chicken, pork chops, steak, or fish. The salad provides a refreshing and light contrast to the smoky and savory flavors of the meats.
Favorite BBQ Side Dishes: Serve the salad alongside classic barbecue favorites like ribs, pulled pork, or burgers. The crispness of the cucumbers and the zesty dressing complement the rich and hearty flavors of barbecue fare.
Sandwiches and Wraps: Add a side of Dill Cucumber Salad to your favorite sandwiches or wraps. It provides a cool and crunchy element that balances the textures and adds a burst of flavor.
Seafood Dishes: Whether it's grilled shrimp, baked salmon, or seared scallops, the Dill Cucumber Salad brings a refreshing element to seafood dishes. The light and citrusy flavors of the salad complement the delicate flavors of the seafood.
Picnic or Potluck Spreads: The Dill Cucumber Salad is a perfect addition to any picnic or potluck menu. It pairs well with other salads, sandwiches, grilled items, Avocado Deviled Eggsand cold cuts, making it a versatile and crowd-pleasing side dish.
Mediterranean-Inspired Meals: Serve the Dill Cucumber Salad alongside dishes like Greek moussaka, falafel, or spanakopita. The salad's refreshing flavors align perfectly with the bright and vibrant Mediterranean cuisine.
Light Lunches or Brunches: Enjoy the Dill Cucumber Salad as a light and healthy lunch option. Pair it with a bowl of 15 bean soup, a quiche, or a simple omelet for a satisfying and well-rounded meal.
🍶 Storing
Refrigerator Storage: To store the Dill Cucumber Salad in the refrigerator, transfer it to an airtight container or cover it tightly with plastic wrap. Then, it can be stored in the refrigerator for up to 2-3 days. However, keep in mind that the longer it sits, the more the cucumbers will soften and release water, affecting the overall texture.
Freezer Storage: While the Dill Cucumber Salad is best enjoyed fresh, it is not recommended to freeze it. Cucumbers have a high water content, and freezing may cause them to become mushy and lose their crispness. The salad's texture and taste may be compromised upon thawing.
Reheat: The Dill Cucumber Salad is meant to be enjoyed chilled and does not require reheating. It is best served straight from the refrigerator to retain its crispness and refreshing flavors.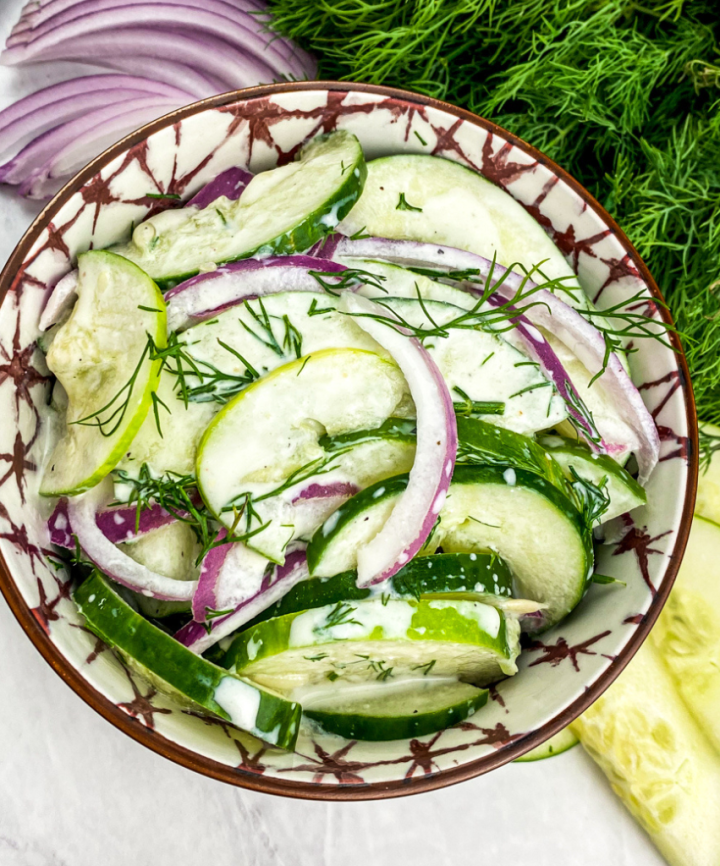 💭Top Tips
Choose fresh cucumbers: Opt for firm and crisp cucumbers when making the Dill Cucumber Salad. The freshness of the cucumbers will contribute to the overall texture and taste of the salad.
Salt the cucumbers: After slicing the cucumbers, sprinkle them with a little salt and let them sit for about 10 minutes. This helps draw out excess moisture, resulting in a crisper salad.
Use fresh dill: Fresh dill provides the best flavor for the salad. If possible, choose fresh dill over dried dill for a more aromatic and vibrant taste.
Adjust the dressing to taste: You can adjust the dressing for the Dill Cucumber Salad according to your personal preferences. If you prefer a tangier flavor, add more vinegar or lemon juice. If you like it creamier, increase the amount of yogurt or mayo.
Let it marinate: For enhanced flavor, allow the salad to marinate in the area,y dressing for at least 30 minutes. This allows the flavors to meld together and the cucumbers to absorb the dressing.
Serve chilled: Enjoy the Dill Cucumber Salad at its best by chilling it before serving. Refrigerate it for at least an hour before serving to ensure a refreshing and crisp texture.
Customize with additional ingredients: Feel free to add other ingredients. I like cherry tomatoes, red onions, or radishes to the salad for added color and flavor. Get creative and tailor the salad to your liking.
Lightly toss before serving: Just before serving, give the salad a gentle toss. This will evenly distribute the dressing and ensure that it coats all the ingredients.
Enjoy it as a refreshing snack: Don't limit the Dill Cucumber Salad to just a side dish. It makes a wonderful and healthy snack option, perfect for satisfying cravings on hot summer days.
❔FAQs
Can I substitute dried dill for fresh dill in the Dill Cucumber Salad?
While fresh dill provides the best flavor, you can substitute dried dill if fresh dill is not available. Keep in mind that the flavor may not be as vibrant. You may need to adjust the amount of dried dill to taste.
Can I add other vegetables or ingredients to the Dill Cucumber Salad?
Absolutely! You can customize the Dill Cucumber Salad with additional ingredients according to your preferences. Cherry tomatoes, red onions, radishes, or feta cheese are some popular additions that can enhance the flavor and texture of the salad.
What kind of cucumbers are best?
You can use either regular cucumbers or English cucumbers. Regular cucumbers have a waxy skin that you can leave on if you like it or peel it off.
How Many WW Points in Easy Cucumber Salad Recipe
This is such a perfect side dish. It makes a delicious simple salad. It comes in at 1 point per serving. Most people think you can't have a creamy version of cucumber salad and it has to be tangy, filled with tangy vinegar dressing. But this recipe is so low in points, you get to have the creaminess you crave and don't have to feel guilty about it.
This is a direct link to the recipe in the WW recipe builder app. Then, you can see the recipe as well as add it to your daily food tracker. This only works for WW members in the US. If you are outside of the US, you will need to enter it manually.
Have you joined our Weight Watchers Facebook Group? Free recipes and support. Perfect for everyone!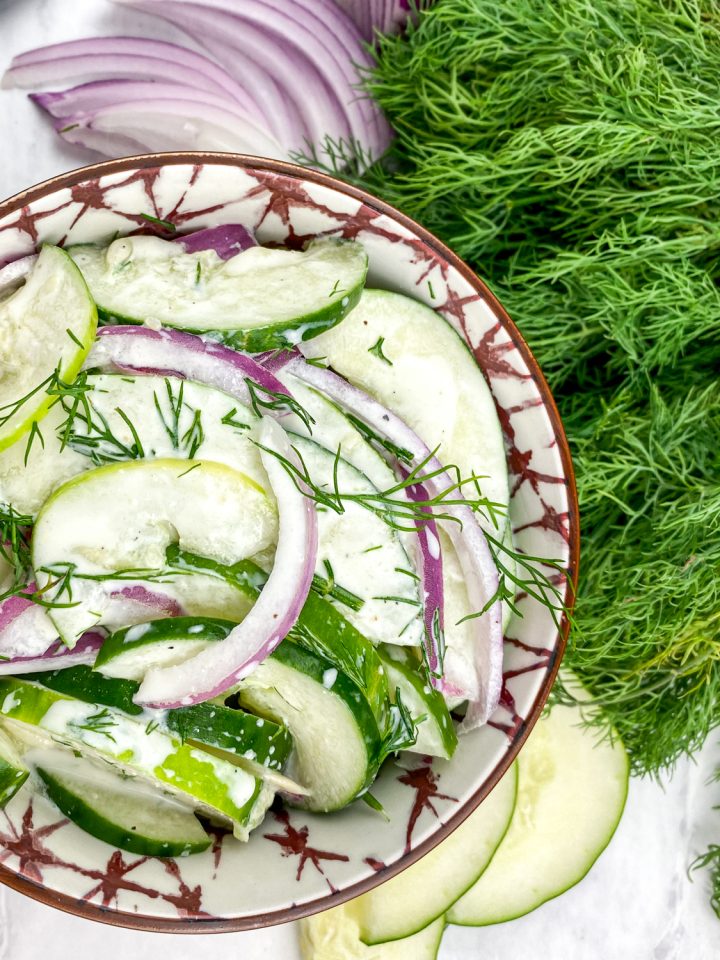 Need to change the number of servings? You can click on the number of servings and change the number. This will adjust the ingredient measurements to what you need.
If you love this recipe, come back and give it 5 stars! ⭐️⭐️⭐️⭐️⭐️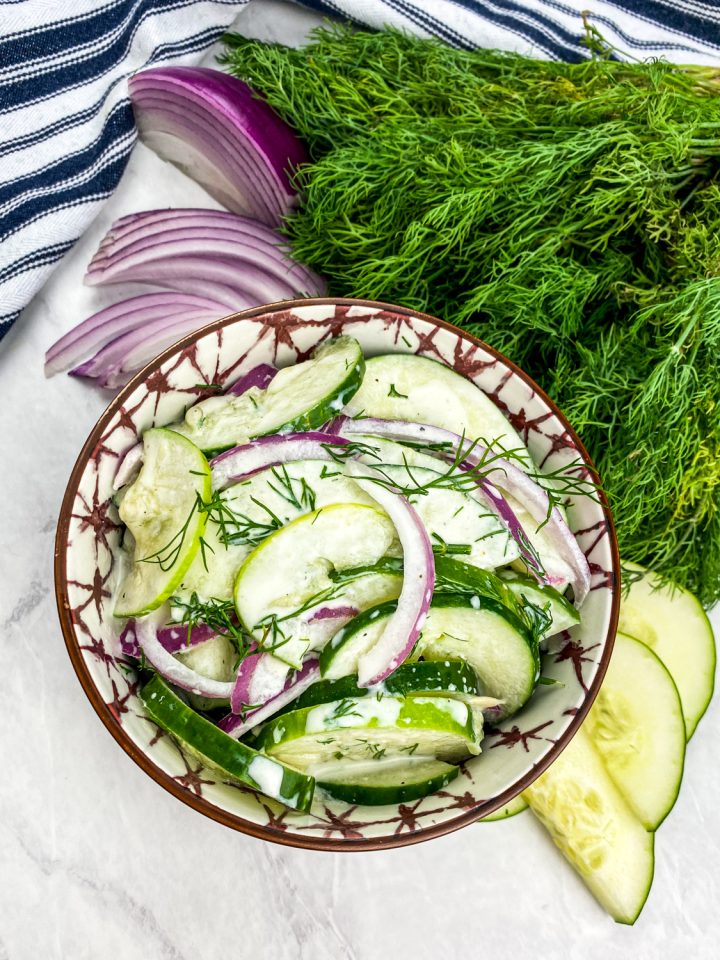 More Healthy Recipes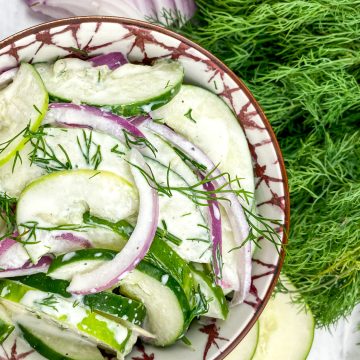 Dill Cucumber Salad
Refreshingly tangy and crisp, this Dill Cucumber Salad is a delightful blend of fresh cucumbers, aromatic dill, and a zesty dressing. Perfect as a side dish or a light summer snack, this salad bursts with flavor and offers a cool, crunchy texture. Try our recipe today and savor the refreshing taste of this classic salad.
Ingredients
Dressing Ingredients:
1/3

cup

Greek yogurt

1/3

cup

sour cream

1½

Tbsp

fresh lemon juice

1

Tbsp

fresh dill

finely chopped

½

tsp

garlic powder

Salt and black pepper

to taste
Salad Ingredients:
2

large

cucumbers

sliced and cut into half rounds

½

medium

red onion

sliced thin

1

T.

fresh dill

roughly chopped
Instructions
Prepare the dressing by whisking all of the ingredients together in a medium bowl until thoroughly combined. Taste and adjust seasonings as desired. Set aside.

Add the cucumber, red onion, and roughly chopped fresh dill to a large bowl.  Pour the dressing on top and toss to combine. Serve immediately or chill for up to two hours before serving. Enjoy!