Discover the authentic flavors of homemade black beans with our delicious recipe. Made from scratch using high-quality ingredients, these beans are rich, creamy, and packed with wholesome goodness. Whether you're a seasoned cook or a beginner in the kitchen, our recipe will guide you step-by-step to create a mouthwatering dish that will satisfy your taste buds.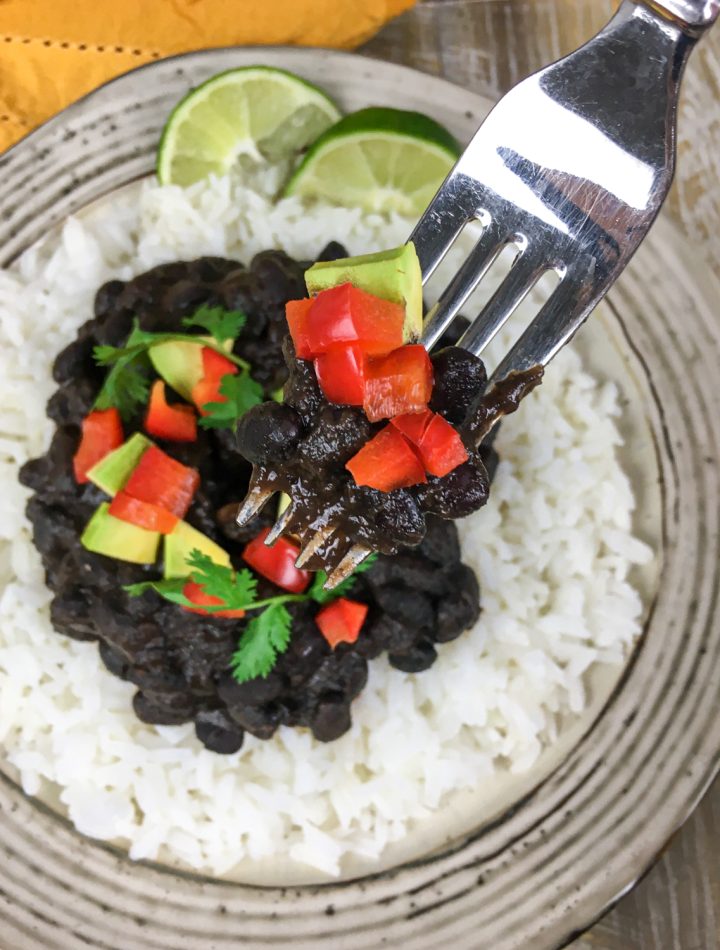 Jump to:
❤️ Why You'll Love Instant Pot Black Beans
Don't open that can of black beans. They are mushy, salty and they never have a good taste. This is the best way to enjoy them.
Authentic homemade flavor
Made from scratch with high-quality ingredients
Rich, creamy, and wholesome
Step-by-step recipe for all cooking levels
Tender with aromatic spices
Adds a hint of smokiness to your meals
Comforting and nutritious choice
🥘 Equipment
🧾 Simple Ingredients
Get the full list of ingredients, with measurements, and step-by-step instructions at the bottom of the post in the printable recipe card.
Dry black beans
Red bell pepper
White onion
Dried oregano
Dried cumin
Garlic powder
Sea salt and black pepper
Whole bay leaf
Chicken broth
Red wine vinegar
Avocado
Fresh cilantro leaves
Whole lime (optional)
White or yellow rice (to serve with)
🍳 How to Make Mexican Black Beans
Get the full list of ingredients, with measurements, and step-by-step instructions at the bottom of the post in the printable recipe card.
Add the beans, pepper, onion, and seasoning to the Instant Pot. Pour the broth over top. Set to high and cook for 32 minutes. Allow for a natural release for 20 minutes and then quick release the remaining pressure.
Remove the lid of the pressure cooker and transfer the red pepper, onion and 1/2 cup broth to the food processor. Blend until smooth.
Add the pureed mixture back to the pot, with the red wine vinegar. Season and stir. Serve over rice, and top with red pepper, avocado, and cilantro.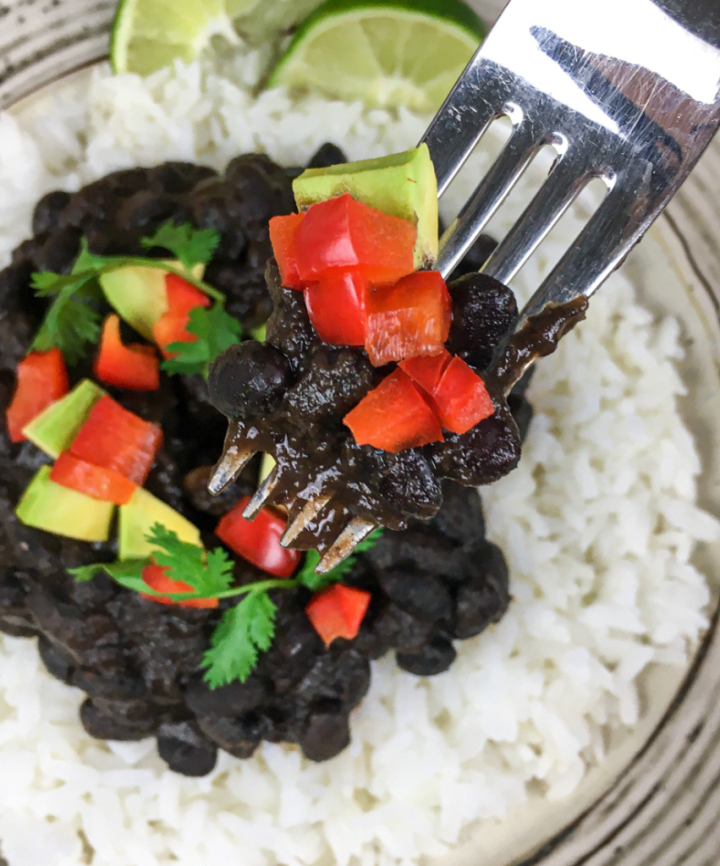 Hint: Looking to make vegan or vegetarian dishes? Skip the chicken broth and use water or vegetable broth.
🥄 Variations to This Instant Pot Recipe
Spicy Twist: Add some diced jalapeños or red pepper flakes to the pot while cooking for an extra kick of heat.
Citrus Burst: Squeeze fresh lime juice into the plate just before serving to brighten up the flavors and add a tangy twist.
Tex-Mex Fusion: Stir in some cumin, chili powder, and a splash of hot sauce for a Tex-Mex inspired black bean dish that pairs perfectly with tacos or nachos.
Herb Infusion: Toss in a handful of fresh herbs like cilantro or parsley during the cooking process to infuse the black beans with a refreshing and aromatic taste.
Smoky Delight: Enhance the smokiness by adding a dash of liquid smoke or smoked paprika to the recipe for a deeper, robust flavor profile.
Sweet and Savory: Experiment with a touch of sweetness by incorporating a teaspoon of brown sugar or maple syrup to balance out the flavors.
Vegetable Medley: Amp up the nutritional value by adding diced vegetables such as bell peppers, onions, or tomatoes to the dish for a colorful and wholesome twist.
Refried beans: A popular variation of black beans, offer a delicious twist on the classic preparation. Unlike whole black beans, refried beans are mashed and then fried, resulting in a smooth and creamy texture. They are commonly used as a versatile ingredient in Mexican cuisine.
Protein Powerhouse: Boost the protein content by mixing in cooked quinoa or diced tofu, creating a heartier and more filling black bean dish.
Garnish Galore: Finish off your homemade beans with a variety of toppings, such as shredded cheese, diced avocado, sour cream, or chopped green onions, to add a burst of flavor and visual appeal.
🍽️ What to Serve With Black Beans Recipe
This is a healthy side dish. But it can also make a healthy meal.
Cilantro Lime Rice: Serve your homemade black beans over a bed of fluffy white rice or brown rice for a classic and satisfying combination.
Tortillas: Warm up some tortillas and create delicious black bean tacos or burritos by filling them with the flavorful black beans, along with your favorite toppings.
Quinoa: For a nutritious and protein-packed meal, pair your black beans with quinoa. The combination of the tender black beans and the fluffy quinoa creates a well-balanced and wholesome dish.
Cornbread: Enjoy the comforting flavors of black beans alongside a slice of freshly baked cornbread. The sweetness of the cornbread complements the savory black beans perfectly.
Salad: Create a hearty and nutritious salad by tossing the beans with mixed greens, diced tomatoes, cucumbers, avocado slices, and a tangy dressing of your choice.
Grilled Meat or Chicken: Serve your beans as a side dish alongside grilled meat or chicken for a complete and satisfying meal. The black beans add a flavorful and protein-rich element to your plate.
Roasted Vegetables: Pair this recipe with a medley of roasted vegetables, such as roasted sweet potatoes, bell peppers, and zucchini, for a colorful and delicious combination.
Quesadillas: Stuff your quesadillas with black beans, cheese, and your choice of vegetables for a tasty and filling meal option. The black beans add a creamy and savory element to the melted cheese.
Nachos: Create a scrumptious plate of loaded nachos by topping tortilla chips with black beans, melted cheese, salsa, guacamole, sour cream, and any other desired toppings.
Huevos Rancheros: Whip up a classic Mexican breakfast by serving your black beans alongside fried or poached eggs, tortillas, salsa, and a dollop of sour cream. The combination of the black beans and eggs creates a satisfying and flavorful morning meal.
🍶 Storing
Refrigerator Storage: Transfer the homemade black beans to an airtight container or a covered bowl. Place them in the refrigerator and store them for up to 4-5 days. Make sure the black beans are cooled down before refrigerating them.
Freezer Storage: If you want to store the black beans for a longer period, freezing is a great option. Allow the black beans to cool completely before transferring them to a freezer-safe container or freezer bag. Make sure to leave some space for expansion. Label the container or bag with the date and freeze for up to 3 months.
Reheat: To reheat the refrigerated black beans, simply transfer the desired amount to a saucepan and heat over medium-low heat until warmed through. You may need to add a splash of water or broth to prevent sticking or dryness.
For frozen black beans, thaw them overnight in the refrigerator before reheating. Once thawed, you can heat them on the stovetop or in the microwave. If using the stovetop, warm them in a saucepan over medium-low heat, stirring occasionally until heated through. In the microwave, place the thawed black beans in a microwave-safe dish, cover with a microwave-safe lid or microwave-safe plastic wrap, and heat in short intervals, stirring occasionally, until thoroughly heated.
Remember to always check the temperature of reheated black beans before serving to ensure they are heated to your desired level.
💭Top Tips
Soaking the black beans overnight before cooking can help reduce the cooking time and improve their texture. Rinse them thoroughly, then cover them with water and let them soak overnight. Discard the soaking water before cooking.
Add salt towards the end of the cooking process, as adding it at the beginning can result in tougher beans. Salt can inhibit the softening of the beans, so wait until they are tender before seasoning to taste.
Experiment with different spices and seasonings to customize the flavor profile of your black beans. Common additions include cumin, chili powder, garlic powder, or even a dash of hot sauce for some heat.
For a deeper smoky flavor, consider using smoked paprika or a few drops of liquid smoke. These ingredients can add a delicious and distinctive smokiness to your black beans.
Adjust the cooking liquid as needed. If the batch seem too dry during cooking, add a bit more water or vegetable broth to ensure they stay moist and don't stick to the pot.
Don't forget to taste and adjust the seasoning before serving. Feel free to add more salt, spices, or other seasonings to enhance the overall flavor according to your preference.
To save time, consider cooking a larger batch and freezing them in smaller portions. This way, you'll have conveniently portioned black beans ready to use for future meals.
Don't be afraid to get creative with black bean leftovers. They can be used in a variety of dishes, such as soups, salads, wraps, or even as a filling for stuffed peppers or enchiladas.
Enjoy the versatility of black beans by incorporating them into your weekly meal prep routine. They are a nutritious and protein-rich ingredient that can be easily incorporated into various recipes, making them a valuable addition to your culinary repertoire.
❔FAQs
Are black beans healthy?
Yes, black beans are highly nutritious. They are an excellent source of plant-based protein, dietary fiber, and essential minerals such as iron, magnesium, and folate. They also contain antioxidants and have been linked to various health benefits, including improved heart health and blood sugar control.
Can I adjust the spiciness of the black beans?
Yes, you can easily adjust the spiciness of the dish to suit your taste preferences. Increase or decrease the amount of spicy ingredients like jalapeños, red pepper flakes, or hot sauce according to your desired level of heat. You have full control over the spiciness in your homemade black beans.
Does this recipe work with other types of beans?
This recipe will work with many different kind of beans, including pinto beans or kidney beans. Depending on the type you are making, you might want to add additional flavors like onion powder or garlic cloves. The cook time should be about the same.
How Many WW Points
This recipe by itself can be 0 points per serving. When it is topped with avocado it is 1 point per serving. I think it is worth it because the addition gives it an authentic flare and creates the most amazing taste.
This is a direct link to the recipe in the WW recipe builder app. You can see the recipe as well as add it to your daily food tracker. This only works for WW members in the US. If you are outside of the US, you will need to enter it manually.
Have you joined our Weight Watchers Facebook Group? Free recipes and support. Perfect for everyone!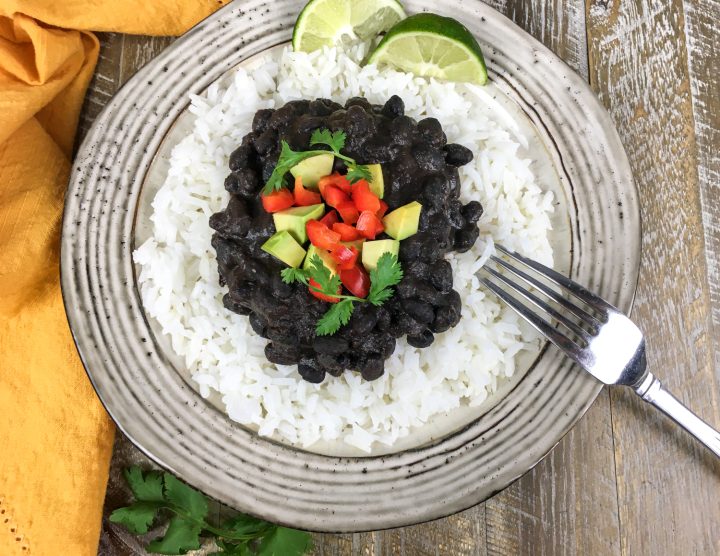 Need to change the number of servings? You can click on the number of servings and change the number. This will adjust the ingredient measurements to what you need.
If you love this recipe, come back and give it 5 stars! ⭐️⭐️⭐️⭐️⭐️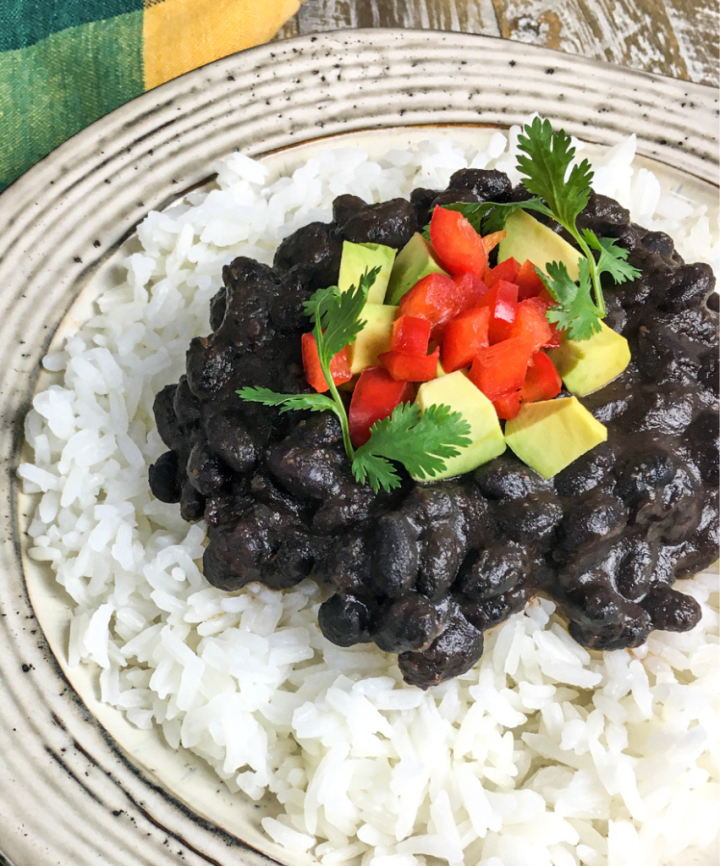 More Instant Pot Recipes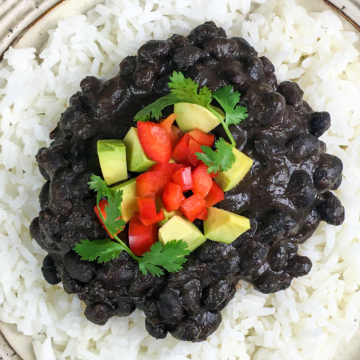 Homemade Black Beans
Discover the authentic flavors of homemade black beans with our delicious recipe. Made from scratch using high-quality ingredients, our black beans are rich, creamy, and packed with wholesome goodness. Whether you're a seasoned cook or a beginner in the kitchen, our recipe will guide you step-by-step to create a mouthwatering dish that will satisfy your taste buds.
Ingredients
1

cup

dried black beans

rinsed and picked over

1

medium

red pepper

seeded and cut into large pieces

½

medium

white onion

cut into large pieces

½

Tbsp

dried oregano

½

Tbsp

dried cumin

1

tsp

garlic powder

Sea salt and black pepper

to taste

2

whole bay leaves

1½

cup

chicken or vegetable broth

1

Tbsp

red wine vinegar

2

Tbsp

red pepper

diced

3

Tbsp

avocado

diced

2

Tbsp

fresh cilantro leaves

chopped

1

whole

lime

cut into wedges (optional)

3

cup

cooked white or yellow rice
Instructions
Add the beans, red pepper, onion, oregano, dried cumin, garlic powder, salt, black pepper, and bay leaves to Instant Pot®.

Pour broth on top and add the lid. Set the pressure valve to "sealing" and select the "Manual" cooking option on the "High" setting. Set cook time to 32 minutes.

When done cooking, allow the pressure to release naturally for 20 minutes, and then do a quick release of any remaining pressure.

Turn the unit off and carefully remove lid. Transfer red pepper, onion, and ½ cup broth to a blender or food processor. Cover and blend until smooth.

Pour pureed vegetable mixture back into the Instant Pot® and add red wine vinegar. Season with additional salt and black pepper, as desired, and stir to combine. Serve immediately over a bed of cooked rice, topped with chopped red pepper, avocado, and cilantro. Offer lime wedges, if desired. Enjoy!