Discover a delightful twist on classic deviled eggs with this Avocado Deviled Eggs recipe. Creamy avocado adds a unique and satisfying touch to this beloved appetizer. Try this recipe for your next party and elevate your next gathering with this irresistible dish.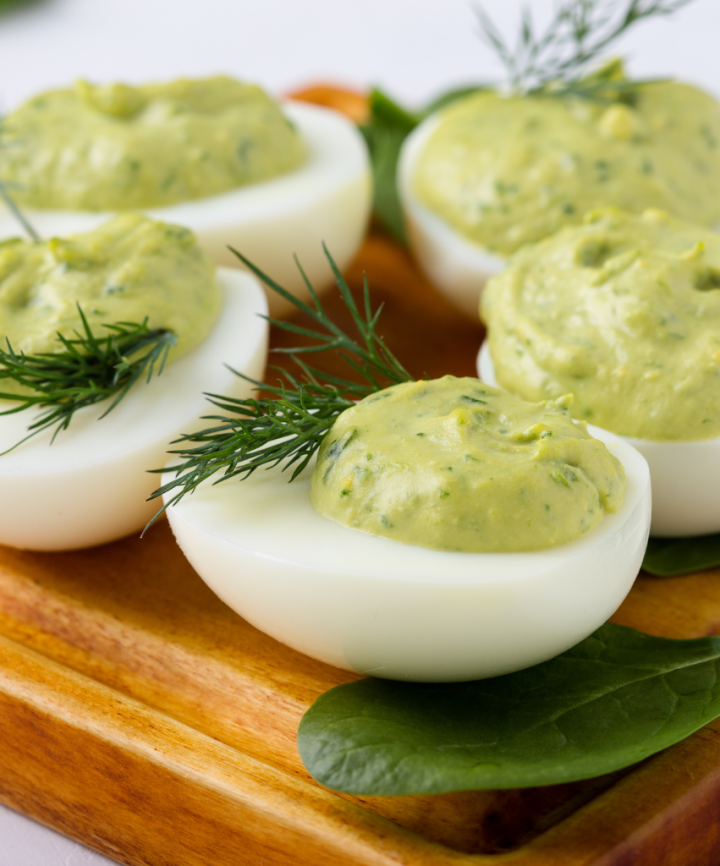 Jump to:
❤️ Why you'll love it
The avocado filling adds a luscious creaminess that takes deviled eggs to the next level.
The combination of ripe avocados and flavorful spices creates a mouthwatering explosion of tastes that will leave you craving more.
Whether you're hosting a party or simply indulging in a snack, these deviled eggs are guaranteed to impress and delight your guests.
Enjoy avocado deviled eggs as an appetizer, side dish, or even as a protein-packed snack to keep you satisfied. Avocados are filled with healthy fats, and will keep you filled and satisfied.
These eggs are perfect for a green eggs and ham breakfast as well.
🧾 Ingredients
Get the full list of ingredients, with measurements, and simple steps at the bottom of the post in the printable recipe card.
Large Eggs
White vinegar
Avocados
Fresh Lemon juice or fresh lime juice
Crushed red pepper flakes
Garlic powder
Onion powder
Smoked paprika
Salt and black pepper
Garnish: Things like green onions, fresh cilantro, fresh parsley,
🍳 Instructions
Get the full list of ingredients, with measurements, and step-by-step instructions at the bottom of the post in the printable recipe card.
Place the eggs in a large pot of water. Add vinegar to the pot. Boil. Turn over the heat, cover and let sit for 12 minutes. This is a fool-proof method cook method for perfect hard-boiled eggs.
Drain the water and rinse with cold water to stop the cooking process. Let cool enough to handle and then peel. Cut the hard-cooked eggs in half lengthwise,
Remove the yolk and place it in a mixing bowl. Set the white halves aside. Mix the other ingredients to the egg yolks and mash them together.
Spoon the avocado mixture into the egg whites. Add garnished and serve.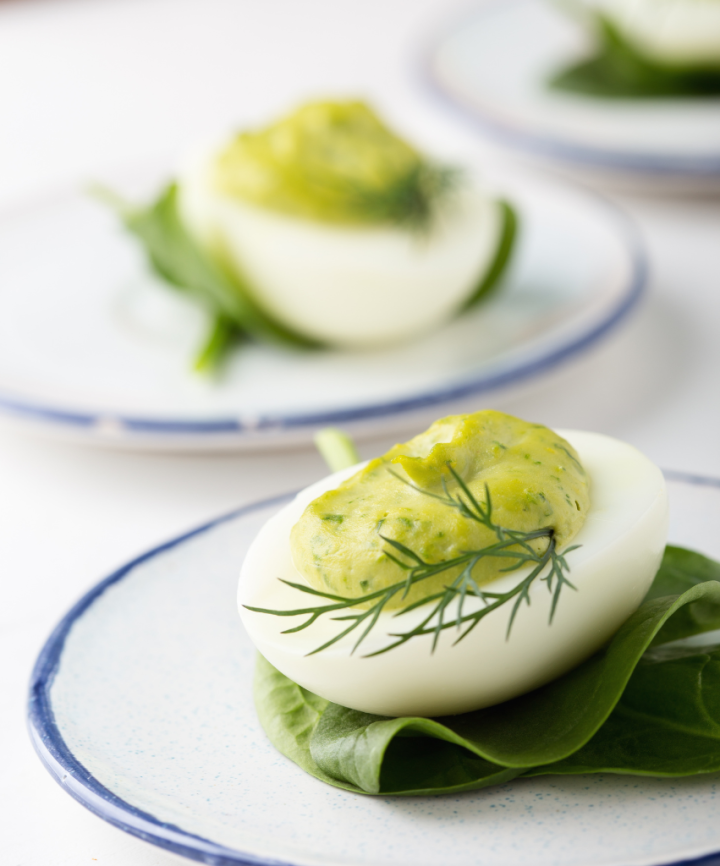 Hint: Add white vinegar to the water when making hard-boiled eggs to make them easier to peel. An ice water bath also helps make the eggs peel easier.
🥄 Variations
Spicy Kick: Add a dash of hot sauce or sprinkle some cayenne pepper on top for a fiery twist.
Bacon Lover's Delight: Crumble crispy bacon and mix it into the avocado filling for a smoky and savory treat.
Mediterranean Medley: Incorporate diced tomatoes, chopped olives, and crumbled feta cheese into the filling for a Mediterranean-inspired flavor explosion.
Herb-infused Elegance: Mix in finely chopped fresh herbs like dill, parsley, or chives to add a burst of freshness and elevate the overall taste.
Zesty Guacamole Style: Mash the avocado with lime juice, diced red onion, minced garlic, and chopped cilantro for a guacamole-inspired deviled egg that will have your taste buds dancing.
Creamy Crab Delight: Fold in some lump crab meat into the avocado filling for a decadent and luxurious twist on traditional deviled eggs.
Smoked Salmon Surprise: Top your avocado deviled eggs with thin slices of smoked salmon and garnish with fresh dill for an elegant and indulgent appetizer.
Refresh Leftovers: Don't want to eat them as regular deviled eggs again? Try them as avocado egg salad. Add a dash of dijon mustard. Enjoy as is or on toast.
🍽️ What to Serve With Health Avocado Eggs
Avocado Deviled Eggs pair wonderfully with a variety of dishes and can be part of a delicious and well-rounded meal. Here are some tasty options to serve alongside them:
Fresh Salad: A crisp and refreshing salad, such as a mixed greens salad with cherry tomatoes, cucumber slices, and a tangy vinaigrette, complements the richness of the deviled eggs.
Vegetable Crudité: Serve a colorful platter of fresh vegetables like carrot sticks, bell pepper strips, celery, and cherry tomatoes with a tasty dip or hummus.
Cheese and Crackers: Create a cheese platter with an assortment of cheeses, crackers, and perhaps some grapes or dried fruits for a delightful combination of flavors.
Bruschetta: Toasted baguette slices topped with fresh tomato, basil, and garlic make for a vibrant and flavorful accompaniment.
Grilled Meats or Seafood: Grilled chicken skewers, shrimp, or even a juicy steak would make a satisfying main course alongside the deviled eggs.
Roasted Vegetables: Roast a medley of seasonal vegetables like asparagus, zucchini, and bell peppers for a tasty and wholesome side dish.
Quinoa or Couscous Salad: A light and fluffy quinoa or couscous salad with herbs, vegetables, and a lemony dressing adds a satisfying and healthy component to the meal.
Don't forget dessert. I love Baked Cinnamon Apple Crisp, Mango Sorbet, or a Weight Watchers Cheesecake
🍶 Storing
Refrigerator Storage: Store your Avocado Deviled Eggs in an airtight container in the refrigerator. They can typically be kept for up to 2-3 days, ensuring they remain fresh and safe to consume. However, it's best to eat them within the first day or two.
Freezer Storage: Unfortunately, Avocado Deviled Eggs do not freeze well due to the creamy avocado filling. Avocado tends to change in texture and may become watery or grainy when frozen and thawed, resulting in a less desirable eating experience. It's recommended to enjoy them fresh rather than attempting to freeze them.
Make Ahead: If you want to have the eggs ahead of time, you can store the peeled eggs and avocado mixture stored apart for a day or two before you need them.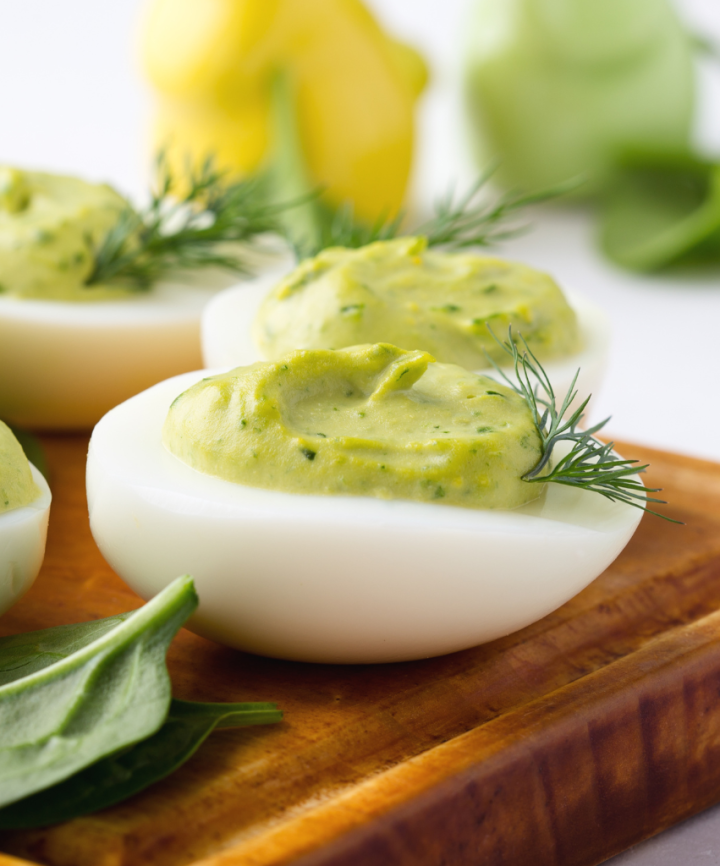 💭Top Tips
Choose A Ripe Avocado: Opt for avocados that are perfectly ripe, neither underripe nor overripe. They should be slightly soft to the touch but not mushy. This ensures a smooth and creamy texture for your filling.
Use Fresh Ingredients: Fresh ingredients contribute to the best flavor. Make sure your eggs are fresh and avoid using avocados that have started to brown or spoil.
Adjust Seasonings to Taste: The suggested seasonings in the recipe are a starting point. Feel free to adjust the amounts or add additional seasonings to suit your personal preference. Taste the filling as you go and make any necessary adjustments.
Keep the Filling Creamy: To achieve a smooth and creamy texture for the filling, use a fork or a food processor to mash the avocado until it is lump-free. This will ensure a velvety consistency.
Get Creative with Garnishes: Enhance the visual appeal and flavor of your Avocado Deviled Eggs with various garnishes. Sprinkle with paprika, fresh herbs, or even a pinch of chili powder to add a pop of color and extra flavor.
Presentation is Key: Use a piping bag or a zip-top bag with a corner snipped off to neatly fill the egg whites. This will give your deviled eggs an attractive and professional appearance.
Serve Chilled: Avocado Deviled Eggs taste best when served chilled. Keep them in the refrigerator until you're ready to serve, and consider placing them on a bed of crushed ice to maintain their temperature during a gathering.
❔FAQs
How can I prevent the avocado filling from turning brown?
Avocado can oxidize and turn brown when exposed to air. To minimize browning, you can squeeze some lemon or lime juice over the mashed avocado or place the avocado pits in the filling mixture. Additionally, covering the filling with plastic wrap pressed directly onto its surface will help prevent air exposure and maintain its vibrant green color.
Can I use store-bought guacamole for the filling?
While you can use store-bought guacamole as a shortcut, it may not provide the same creamy and smooth texture as freshly mashed avocados. If using store-bought guacamole, consider adding additional seasonings and spices to enhance the flavor and adjust the consistency if needed.
How Many WW Points
This WW deviled eggs are 6 points on the Weight Watchers plan. While that might seem high for 2 eggs/ 4 pieces. However, these healthy deviled eggs are like a meal. The avocado in the eggs makes these eggs very filling. Unlike the eggs you might have at a picnic, you can enjoy these eggs as breakfast or lunch.
This is a direct link to the recipe in the WW recipe builder app. You can see the recipe as well as add it to your daily food tracker. This only works for WW members in the US. If you are outside of the US, you will need to enter it manually.
Have you joined our Weight Watchers Facebook Group? Free recipes and support. Perfect for everyone!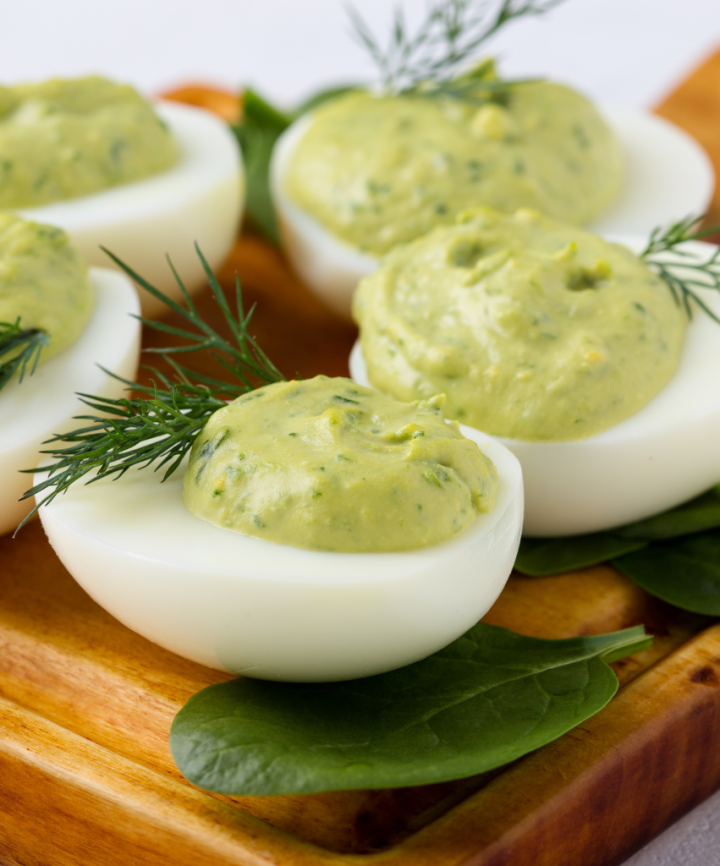 Need to change the number of servings? You can click on the number of servings and change the number. This will adjust the ingredient measurements to what you need.
If you love this recipe, come back and give it 5 stars! ⭐️⭐️⭐️⭐️⭐️
More Delicious Recipes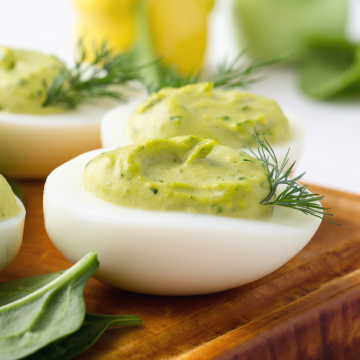 Avocado Deviled Eggs
Discover a delightful twist on classic deviled eggs with our Avocado Deviled Eggs recipe. Creamy avocado adds a unique and satisfying touch to this beloved appetizer. Try this recipe now and elevate your next gathering with this irresistible dish.
Ingredients
8

large

eggs

2

Tbsp

white vinegar

2

medium

avocados

1

Tbsp

lemon juice

1½

Tbsp

avocado mayonnaise*

1

tsp

crushed red pepper flakes

½

tsp

garlic powder

½

tsp

onion powder

½

tsp

smoked paprika

salt and black pepper

to taste

3

Tbsp

fresh parsley

minced
Instructions
Place eggs in a large pot and cover by an inch or two cold water. Add 2 tablespoons of white vinegar to the pot and bring to a rolling boil. Cover and turn off heat. Let the eggs sit on burner, covered, for 11-12 minutes.

Drain the eggs and rinse in cold water to stop cooking process. Once cool enough to handle, gently peel and slice each egg in half lengthwise.

Carefully remove the yolks with a spoon and transfer to a small mixing bowl. Set the cooked egg whites aside.

Add the avocado, lemon juice, avocado mayonnaise, red pepper flakes, garlic powder, onion powder, and smoked paprika to the bowl with the yolks. Season with salt and black pepper, to taste, and mash everything together until thoroughly combined.

Fill each egg half with a tablespoon of the avocado mixture and top with fresh parsley. Serve immediately and enjoy!