Discover the delightful taste of homemade blueberry compote - a tangy and sweet treat bursting with fresh blueberries. Versatile and easy to make, enjoy it as a topping for pancakes, yogurt, or desserts. Perfect for breakfast or dessert cravings.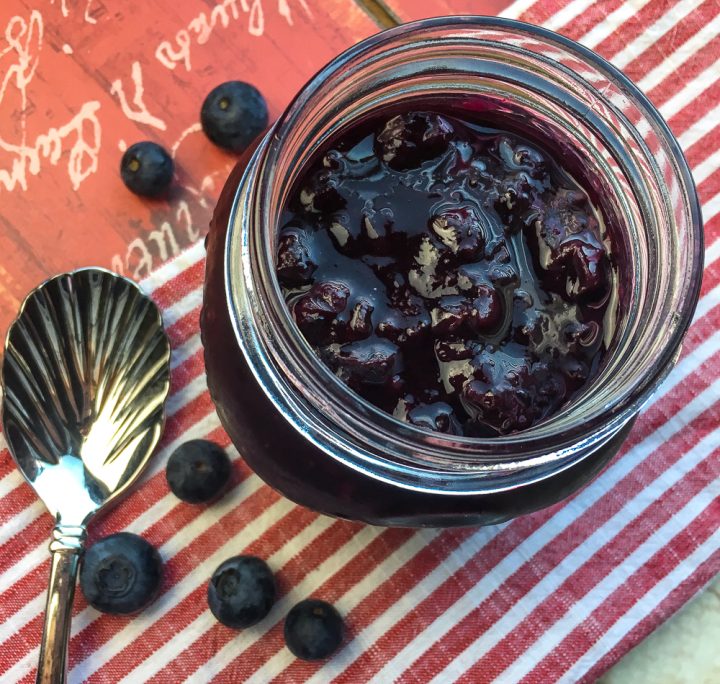 Jump to:
❤️ Why you'll love it
Delicious Flavor: Blueberry compote, similar to blueberry jam, has amazing flavors because it has a rich and sweet taste that is both tangy and refreshing. The sweetness of the blueberries mixes with a little bit of tartness, making it taste balanced and delightful.
Versatility: Blueberry compote is incredibly versatile and can be used in a variety of ways. You can enjoy it as a topping for pancakes, waffles, oatmeal, or yogurt. It can also be used as a filling for pastries, cakes, or as a sauce for desserts like cheesecake or ice cream.
Easy to Make: Blueberry compote is simple to prepare, requiring just a few ingredients and a short amount of time, especially because of using the Instant Pot. You can make it by simmering fresh or frozen blueberries with sugar and a touch of lemon juice. This means you can enjoy homemade blueberry compote without much effort.
Seasonal Delight: Blueberries are typically in season during the summer months, and making blueberry compote allows you to take advantage of this seasonal fruit at its peak. The vibrant colors and fresh flavors of summer blueberries can bring joy to your taste buds and brighten up your dishes.
🥘 Equipment
🧾 Simple Ingredients
Get the full list of ingredients, with measurements, and step-by-step instructions at the bottom of the post in the printable recipe card.
Fresh or frozen blueberries
Pure maple syrup
Tart lemon juice
Vanilla extract
Ground cinnamon
Salt
🍳 How to Make Easy Blueberry Compote Recipe
Get the full list of ingredients, with measurements, and step-by-step instructions for this simple blueberry compote recipe at the bottom of the post in the printable recipe card.
Add all of the ingredients to the Instant Pot and stir. Place the lid on top and lock it into place. Set to sealing and cook on high for 3 minutes. When done, turn the IP off, do a 10-minute natural release, and turn the valve to "venting".
If you prefer a thinner blueberry sauce, leave it as is at this step. If you prefer a thicker compote, saute it on high while stirring constantly until the excess liquid is reduced. You can also use a cornstarch slurry in the cooked blueberries.
Serve immediately, or let cool and store in the refrigerator.
Hint: Feel free to add lemon zest to add a bit more acidity to the flavor of the blueberry compote.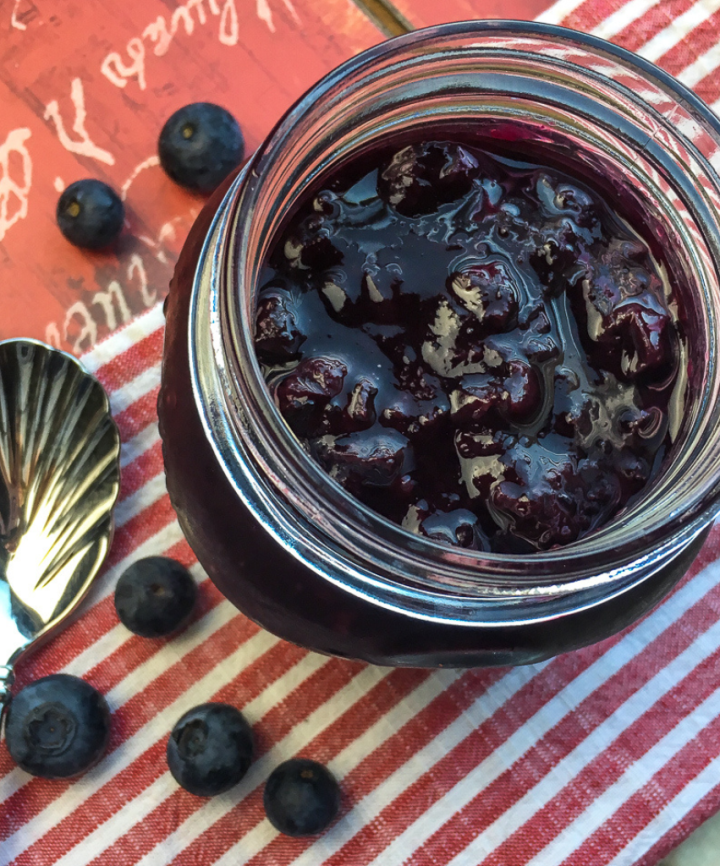 🥄 Variations
There are several variations you can explore when making blueberry compote. Here are a few ideas:
Mixed Berry Compote: Instead of using only blueberries, you can mix different types of berries such as strawberries, raspberries, and blackberries to create a medley of flavors in your fruit compote. Strawberry compote is to die for.
Spiced Blueberry Compote: Enhance the flavor profile by adding warm spices such as cinnamon, nutmeg, or cloves to your compote. These spices can bring a cozy and aromatic touch to your dish.
Vanilla Bean Infused Compote: Split a vanilla bean and scrape out the seeds. Add the seeds and the empty pod to the blueberry mixture while cooking. This will infuse a delightful vanilla flavor into your compote.
🍽️ What to Serve With Blueberry Compote
Tasty blueberry compote pairs well with a variety of dishes and can be a versatile addition to your meals. Here are some ideas on what to serve with blueberry compote:
Pancakes and Waffles: Blueberry compote is the perfect topping for pancakes and waffles. Pour it generously over a stack of fluffy pancakes or crispy waffles for a delicious breakfast or brunch treat.
French Toast: Drizzle blueberry compote over French toast to add a burst of fruity flavor. The sweet and tart compote pairs wonderfully with the rich and eggy bread. This is one of my favorite breakfasts.
Oatmeal and Cereal: Stir blueberry compote into a bowl of warm oatmeal or sprinkle it over cold cereal for a delightful burst of sweetness. It can elevate your breakfast bowl and make it more flavorful.
Yogurt and Parfaits: Add a spoonful of blueberry compote to plain or flavored yogurt to enhance its taste. Layer it with yogurt and blueberry granola to create a delicious and colorful parfait. The flavor of the blueberries combine perfectly.
Sweet Treats: Blueberry compote makes a fantastic topping for vanilla ice cream or frozen yogurt. Add it to rice pudding. You can also use it as a filling for pastries, cakes, or crepes to add a fruity and sweet element to your desserts. It goes great on Skinny Raspberry Oatmeal Bars in place of the raspberries.
Cheese and Charcuterie: Blueberry compote can be served alongside a cheese platter or charcuterie board. Its sweet and tangy flavor complements the savory notes of cheese and cured meats.
Toast and Bagels: Spread the simple blueberry sauce on toasted bread or bagels for a fruity twist on your morning toast. It can be a delicious alternative to traditional jams or spreads.
🍶 Storing Homemade Blueberry Compote Recipe
Refrigerator Storage: Leftover blueberry compote can be stored in the refrigerator for up to 1 week. Allow it to cool completely. Store it in an airtight container or mason jar. Make sure the container is sealed tightly to maintain freshness. When you're ready to use it, simply take it out of the refrigerator and serve it chilled or gently reheat it if desired.
Freezer Storage: Blueberry compote can also be stored in the freezer for longer-term storage. Allow it to cool completely before transferring it to a freezer-safe container or freezer bags. Make sure to leave some room for expansion as the compote freezes. It can be stored in the freezer for up to 3 months.
I love to freeze the compote in ice cube trays. Then I take the cubes and move them to the container or freezer bag. It is easier to take the cubes out and have individual portions instead of having to have many small storage bags or having to thaw the entire batch.
When you want to use it, thaw it in the refrigerator overnight or defrost it gently in the microwave.
Reheat: To reheat blueberry compote, there are a few methods you can use:
Stovetop: Transfer the desired amount of compote to a small saucepan and heat it over low to medium heat, stirring occasionally, until it reaches your desired temperature.
Microwave: Place the compote in a microwave-safe bowl and heat it in short intervals, stirring in between, until it is warmed to your liking.
Remember not to overheat the compote, as it can become too liquidy or lose some of its fresh flavor. Adjust the heating time based on your preference and the quantity of compote you are reheating.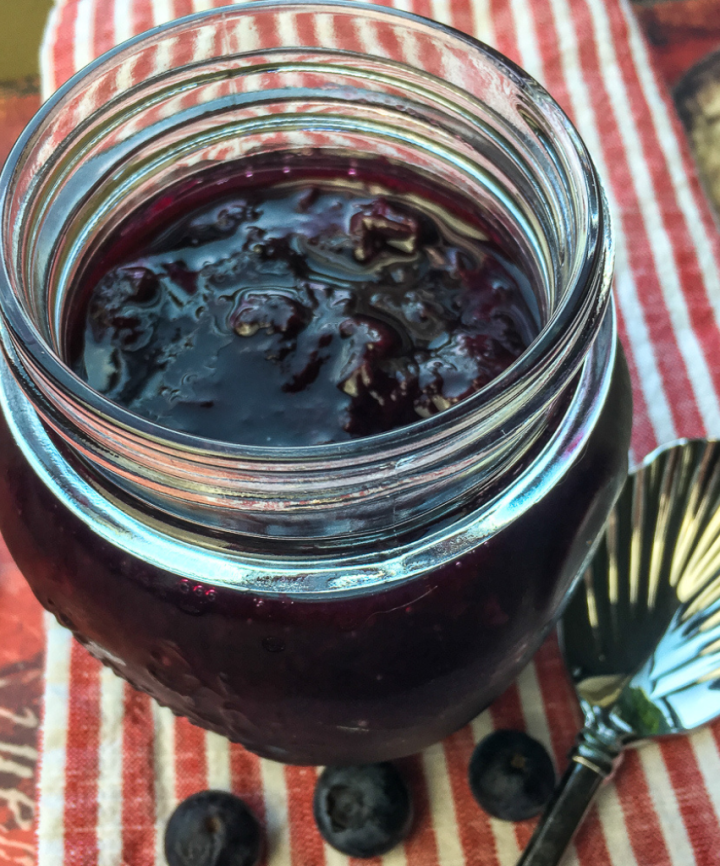 💭Top Tips
Sure! Here are some top tips for making and enjoying blueberry compote:
Choose ripe blueberries: Use fresh or frozen blueberries that are ripe and flavorful for the best results. Ripe blueberries will have a deeper color and a slightly soft texture.
Adjust sweetness: Taste your blueberries before making the compote. They might be sweeter or be a little sour. Adjust the amount of sugar as needed. Sweeter berries might need less sugar/ maple syrup while tart berries might need more.
Customize with spices or flavors: Experiment with adding spices like cinnamon, nutmeg, or vanilla extract to your blueberry compote to give it a unique twist. These additions can complement the natural flavors of the blueberries and add complexity to the compote.
Serve at different temperatures: Blueberry compote can be enjoyed hot, warm, or chilled. Try serving it warm over pancakes or ice cream for a comforting treat, or refrigerate it and serve it cold as a refreshing topping for yogurt or cereal.
Make in bulk and freeze: If you have an abundance of blueberries or want to save time, consider making a larger batch of blueberry compote and freezing it in smaller portions. This way, you can enjoy it throughout the year and have a quick and convenient topping on hand.
❔FAQs
Can I can or preserve blueberry compote?
Yes, you can can or preserve blueberry compote for longer shelf life. Follow proper canning techniques and guidelines to ensure the compote is safely preserved. It's recommended to refer to reliable canning resources or recipes for detailed instructions.
Can I use blueberry compote as a filling for pies or tarts?
Absolutely! Blueberry compote can be a delicious filling for pies, tarts, or other baked goods. Just ensure that the consistency of the compote is suitable for your desired recipe, and adjust the cooking time accordingly.
Should I use fresh or frozen blueberries?
Both fresh and frozen blueberries can be used to make blueberry compote. Fresh berries are great but you want to make sure they are fresh and in season. However, sometimes they can also be pricey. Frozen berries are picked at peak season and tend to be cheaper. Both will provide that bright berry flavor. Since they are being cooked, you can't tell the texture of fresh from frozen berries.
How Many WW Points in Fresh Blueberry Compote
This recipe comes in at 1 point per 1/4 cup. If you wanted to make it 0 points, you can change it to sugar-free maple syrup, or lower the amount of compote per serving.
This is a direct link to the recipe in the WW recipe builder app. You can see the recipe as well as add it to your daily food tracker. This only works for WW members in the US. If you are outside of the US, you will need to enter it manually.
Have you joined our Weight Watchers Facebook Group? Free recipes and support. Perfect for everyone!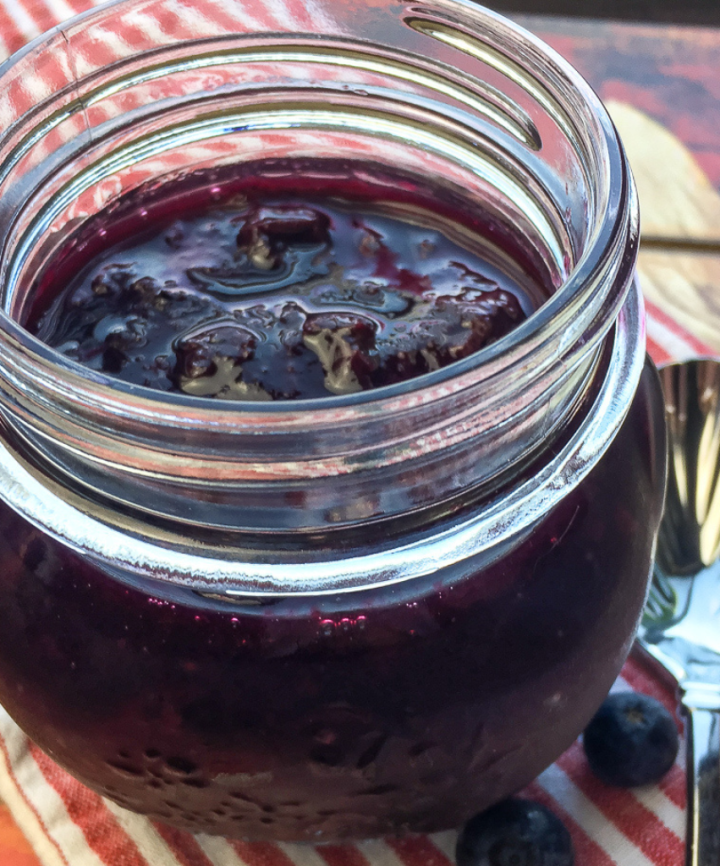 Need to change the number of servings? You can click on the number of servings and change the number. This will adjust the ingredient measurements to what you need.
If you love this recipe, come back and give it 5 stars! ⭐️⭐️⭐️⭐️⭐️
More Delicious Recipes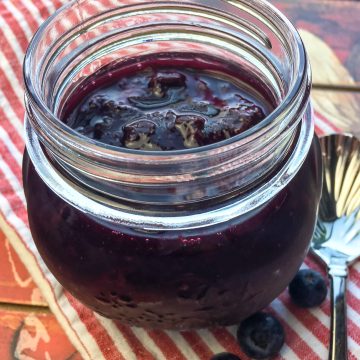 Instant Pot Blueberry Compote
Discover the delightful taste of homemade blueberry compote - a tangy and sweet treat bursting with fresh blueberries. Versatile and easy to make, enjoy it as a topping for pancakes, yogurt, or desserts. Perfect for breakfast or dessert cravings.
Ingredients
3

cup

fresh or frozen blueberries

¼

cup

real maple syrup

2

TBSP

fresh lemon juice

1

tsp

vanilla extract

1

tsp

ground cinnamon

¼

tsp

salt
Instructions
Add all ingredients to Instant Pot container and stir to combine. Add the lid and lock into position.

Set the pressure valve to the "Sealing" position and press the "Manual" button. Adjust the setting to high and select 3 minutes for the cook time. After a brief pause, the Instant Pot will automatically start building pressure at this point.

When the cook time has finished, turn the Instant Pot off to prevent scorching. Allow the pressure to release naturally for 10 minutes, then manually release the remaining pressure by carefully moving the valve to the "Venting" position.

Optional: To thicken the compote, select the "Sauté" function and cook over high heat, stirring constantly, until excess liquid is reduced. Turn the Instant Pot off and immediately remove container from the unit to cool.

Serve immediately or transfer to an airtight container and store in the refrigerator for 7 to 10 days. Enjoy!