Love zucchini fries? This is the best zucchini fries recipe out there - crispy, delicious, and easy to make.
Oven Baked Zucchini Fries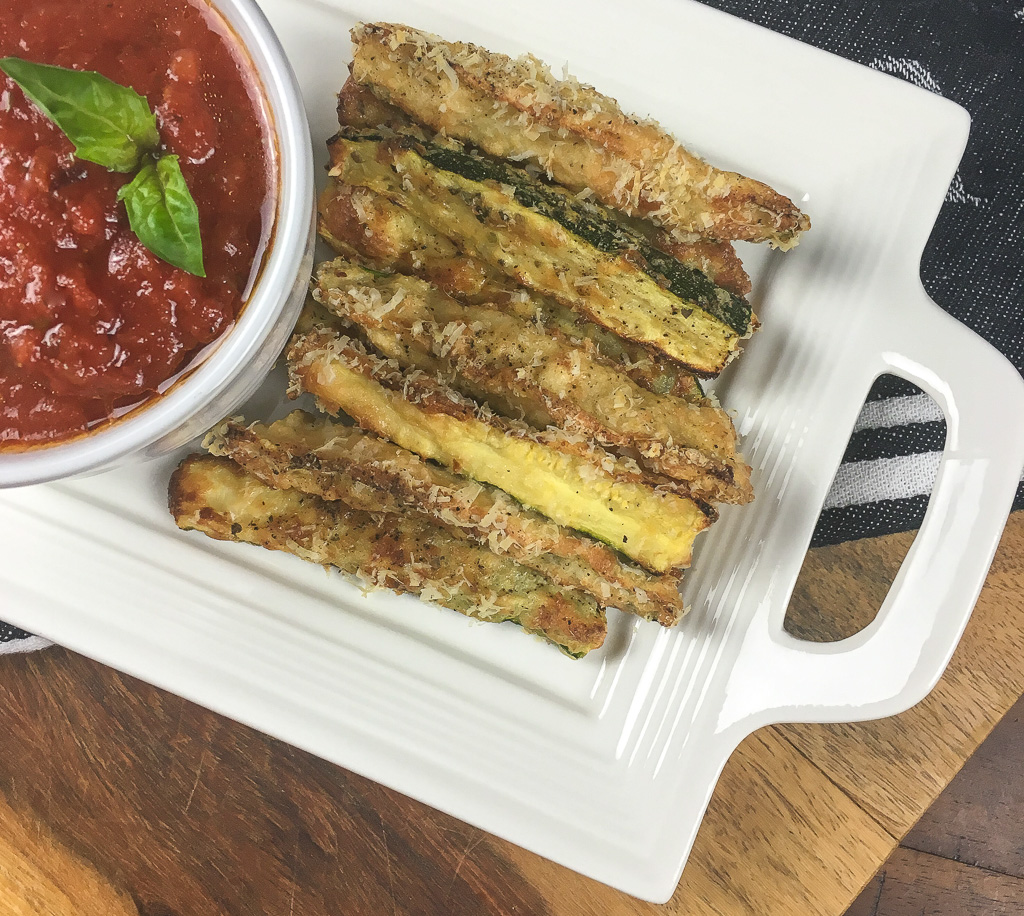 Jump to:
❤️ Why You'll Love It
These crispy zucchini fries are a low carb healthy alternative to greasy fries. These breaded zucchini sticks are similar to shake and bake zucchini which are low in calories, fat, and points.
Super easy to make
Perfectly crispy on the outside and tender inside
Baked not fried
Delicious served with your favorite dipping sauces or dressings
🧾 Ingredients
Get the full list of ingredients, with measurements, and step-by-step instructions at the bottom of the post in the printable recipe card.
Almond flour
Garlic powder
Onion powder
Smoked paprika
Italian seasoning
Salt and black pepper
Eggs
Water
Parmesan cheese
Zucchini
🍳 How to Make The Best Zucchini Fries
Get the full list of ingredients, with measurements, and step-by-step instructions at the bottom of the post in the printable recipe card.
Combine the flour and seasoning together in a shallow bowl. In a separate bowl, whisk the egg and water together. In a small bowl, add the parmesan cheese.
Dredge the zucchini slices into the flour mixture, then into the egg wash, and then into the cheese.
Place the zucchini onto a prepared baking sheet and bake until golden brown.
Serve with your favorite dipping sauce or dressing and enjoy!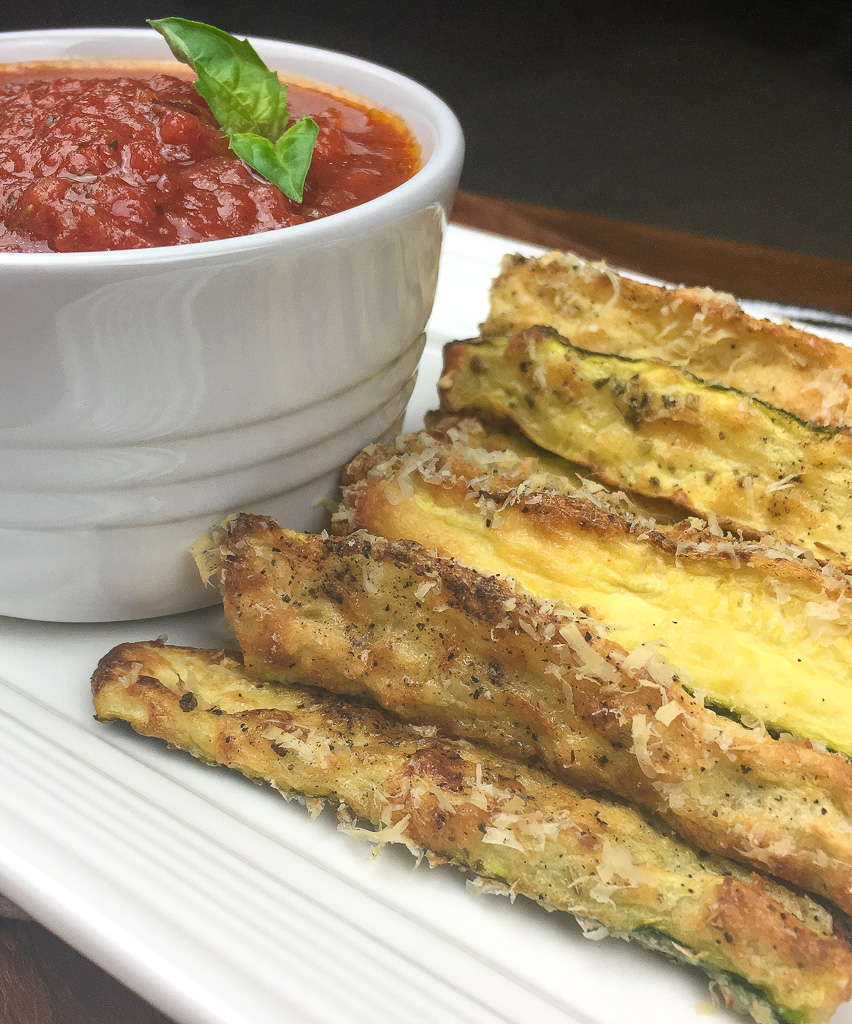 Hint: If you want extra crispy zucchini fries, once they are cooked, place them under the broiler for a few minutes.
🥄 Variations
Make sure to dry the zucchini pieces to remove excess moisture.
When making the coating of the zucchini fries you can also use all purpose flour, coconut flour, or panko bread crumbs.
For cheesy zucchini fries, add additional parmesan cheese to the coating mixture.
You can also use other types of cheeses such as cheddar, mozzarella, or gouda for a different flavor.
You can also add fresh herbs to the coating mixture for an extra flavor boost.
🍽️ What to Serve With Breaded Zucchini Strips
These zucchini fries are delicious served with your favorite dipping sauce or dressing. Try them with a marinara sauce, creamy ranch dressing, BBQ sauce, ketchup, garlic aioli, honey mustard, or spicy mayo.
You can also serve these as a side dish to Lemon Rosemary Chicken, steak, fish, burgers, or sandwiches.
Don't forget dessert, Weight Watchers Chocolate Cheesecake
🍶 Storing
Refrigerator Storage: Leftover zucchini fries can be stored in an airtight container in the refrigerator for up to 3 days.
Freezer Storage: Freeze zucchini fries for up to 3 months. Place the cooked and cooled fries on a baking sheet in a single layer and place them in the freezer until frozen. Then transfer them to an airtight container or freezer bag and store them in the freezer.
Reheat: To reheat, place them on a baking sheet and bake at 350°F until they are hot and crispy. You can also microwave them but they will not be as crispy.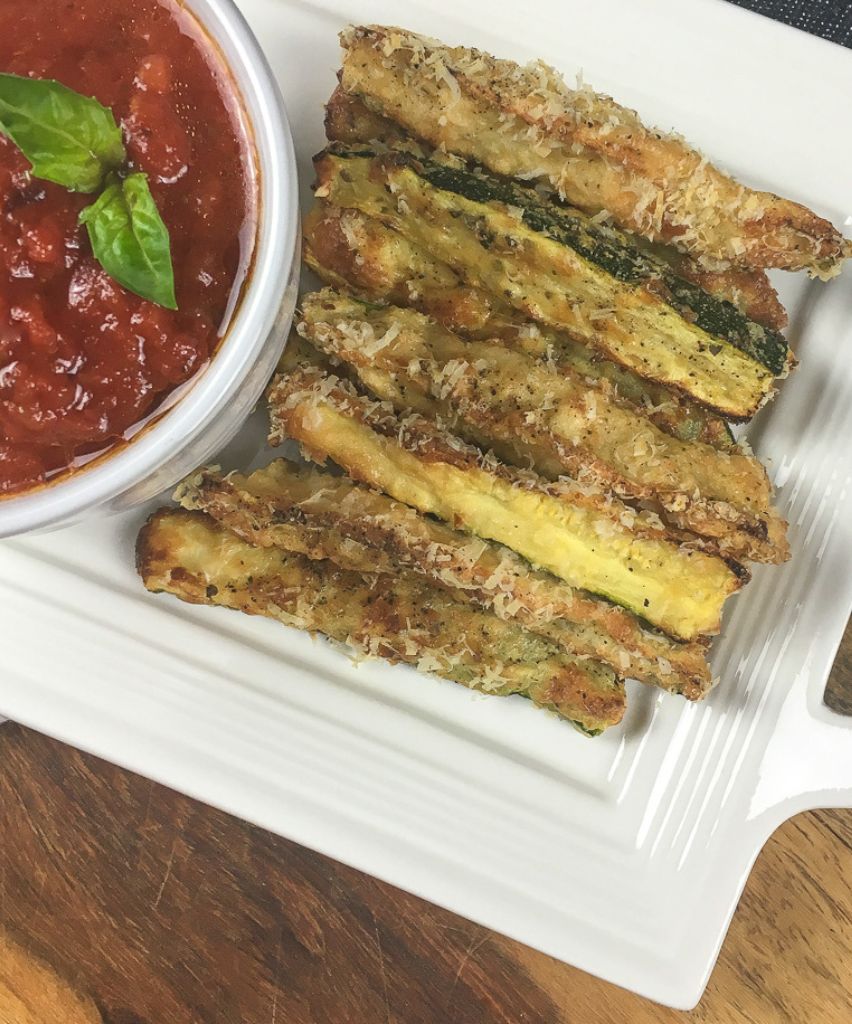 💭Tip for Making the Perfect
Zucchini has a lot of natural moisture in it, so it can be challenging to get crispy results when oven-roasting it. For this reason, small, firm zucchini work best for this recipe.
You may also want to remove excess seeds prior to dredging each piece in the seasoned almond or coconut flour.
Zucchini fries are best served hot, so make sure you serve them right away after they come out of the oven.
Don't forget to season with salt and pepper before baking for extra flavor.
For extra crunchy zucchini fries, try double-dredging them for an extra crispy coating. Dip them in the egg mixture twice and coat with cheese both times.
When reheating, spray the parmesan zucchini fries with cooking spray to help them get crispy again.
How Many WW Points in this Recipe
This recipe comes in at 3 points per serving. The points in the baked zucchini fries come from the flour and the Parmesan cheese.
This is a direct link to the recipe in the WW recipe builder app. You can see the recipe as well as add it to your daily food tracker. This only works for WW members in the US. If you are outside of the US, you will need to enter it manually.
❔FAQs
Why are my zucchini fries soggy?
Soggy zucchini fries can be caused by using too much egg or not drying the zucchini slices off enough before coating them. Make sure to dry the zucchini slices as much as possible and use just enough egg mixture for a thin coating.
Are zucchini fries healthier than french fries?
Yes, zucchini fries are healthier than french fries because they are baked instead of fried. Baking the zucchini helps to keep them light and healthy while still giving them a crisp texture. Additionally, they contain fewer calories and fat than traditional french fries.
Can I make fried zucchini without eggs?
Yes, you can make fried zucchini without eggs. Simply skip the egg mixture and just coat the zucchini slices in flour and your favorite seasonings before baking them.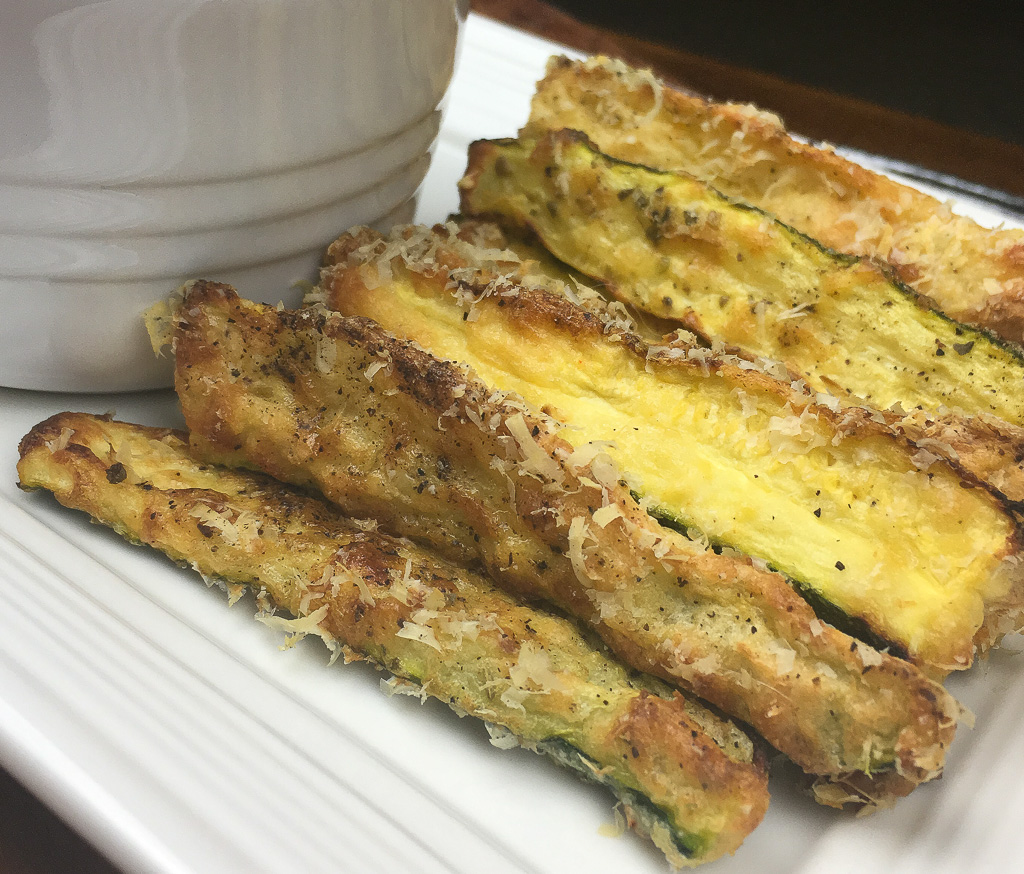 📖More Recipes
Have you joined our Weight Watchers Facebook Group? Free recipes and support. Perfect for everyone!
Need to change the number of servings? You can click on the number of servings and change the number. This will adjust the ingredient measurements to what you need.
If you love this recipe, come back and give it 5 stars! ⭐️⭐️⭐️⭐️⭐️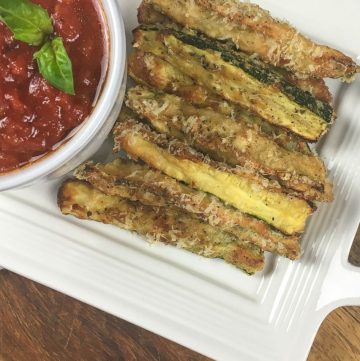 Crispy Zucchini Fries
Love zucchini fries? This is the best zucchini fries recipe out there - crispy, delicious, and easy to make.
Ingredients
1/4

cup

almond flour

½

tsp

garlic powder

½

tsp

onion powder

1

tsp

smoked paprika

1

tsp

Italian seasoning

Salt and black pepper

to taste

2

large

eggs

2

TBSP

water

1/2

cup

Parmesan cheese

freshly grated

2

small

zucchini

halved and cut into ¼-inch thick slices
Instructions
In a pie pan or shallow bowl, combine the flour, garlic powder, onion powder, smoked paprika, and Italian seasoning. Season with salt and black pepper, to taste. Set aside.

In a second pie pan or shallow bowl, gently whisk together the eggs and water until frothy and set aside.

Add the freshly grated Parmesan cheese to a third bowl and set aside.

Dredge zucchini pieces in the seasoned almond flour before dipping into the egg mixture. Allow excess egg to drain off each piece before transferring to the bowl with the Parmesan cheese. Turn to evenly coat each piece of zucchini before transferring to the prepared rack. Season with additional salt and black pepper, if desired.

Place baking sheet into preheated oven and roast until golden and crisp, around 20-25 minutes. Flip the fries once halfway through the cooking time.

When ready, remove zucchini fries from oven and serve immediately. Enjoy.