Delicious skillet barbacoa taco recipe with tender, flavorful meat. Easy to make at home. Perfect for Taco Tuesday or any day!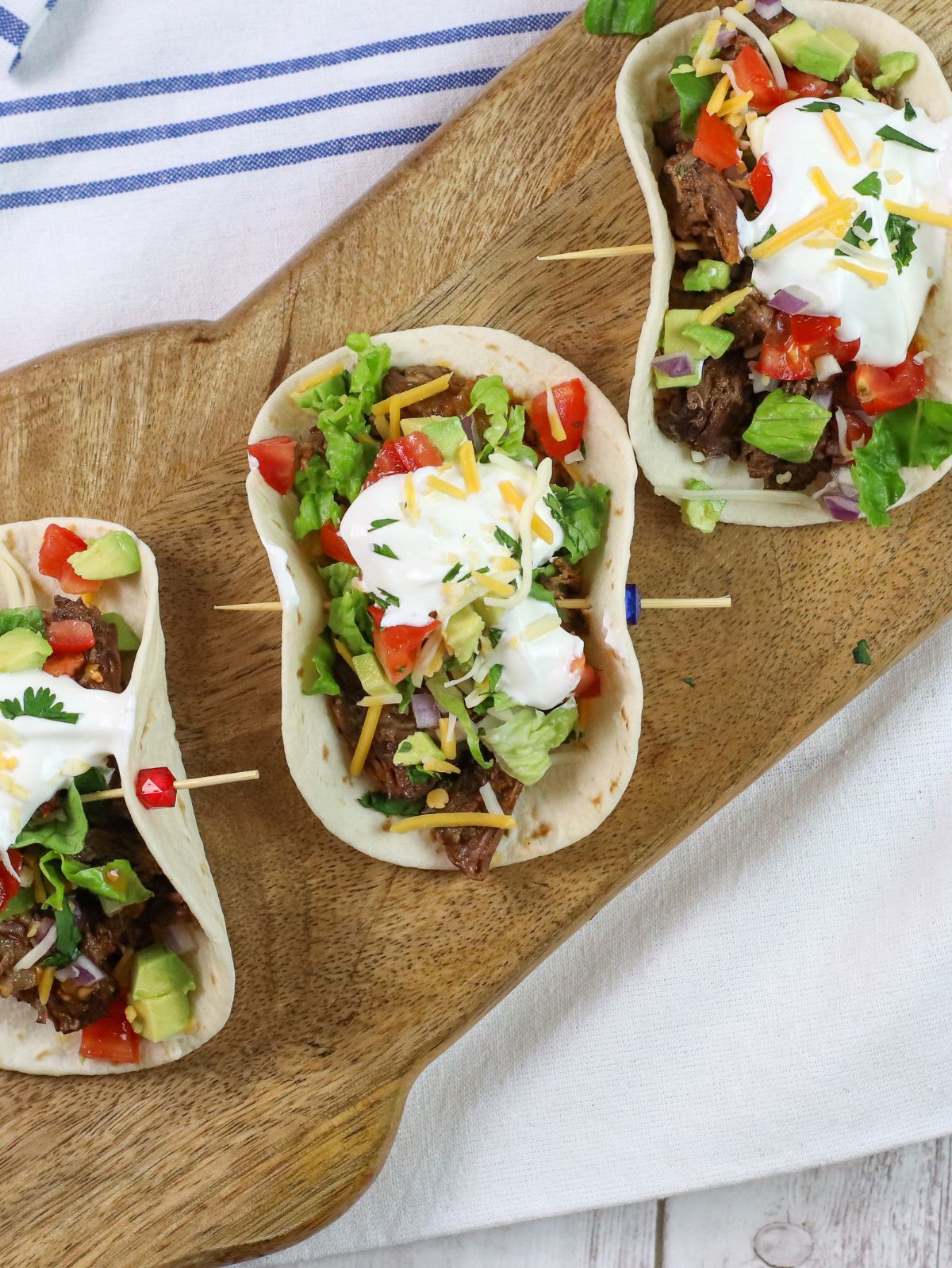 Skillet Barbacoa Beef Tacos Recipe
This awesome Weight Watcher Barbacoa Recipe is a winner! The beef is slowly cooked to perfection with tasty seasonings, resulting in juicy and tender meat. It's a great lunch or dinner option, perfect for parties or BBQs. While takeout is good, nothing beats homemade. Give this barbacoa beef a try at home and turn it into amazing tacos.
Jump to:
What is Barbacoa Made of?
Barbacoa usually consists of tougher cuts of beef that need extended, gradual cooking that results in tender beef. Barbacoa gets its name from the meat filling the tacos. This meat is cooked slowly with spices and then put into a shell-like tortilla. The beef is cooked with a ton of ingredients for flavoring. The beef is slow-cooked with Mexican spices. All of this gives the beef a smokey, spicy, and savory flavor. In the traditional method, barbacoa is prepared using big meat portions or whole animals. In this case, it is a fat cheaper cut of beef. I love using chuck roast because I find it on sale often and it goes a long way. I have used pork roast in this recipe too and I have always been happy with it.
Traditionally barbacoa was made from the meat of the cow's head, like beef cheeks because it was a cheap cut of beef. Now most people use beef chuck roast for barbacoa meat.
❤️ Why You'll Love Easy Barbacoa Recipe
Tender and flavorful beef that melts in your mouth.
A perfect balance of spices that awaken your taste buds.
Versatile – used in various dishes for delightful meals.
Easy to make, even for beginners in the kitchen.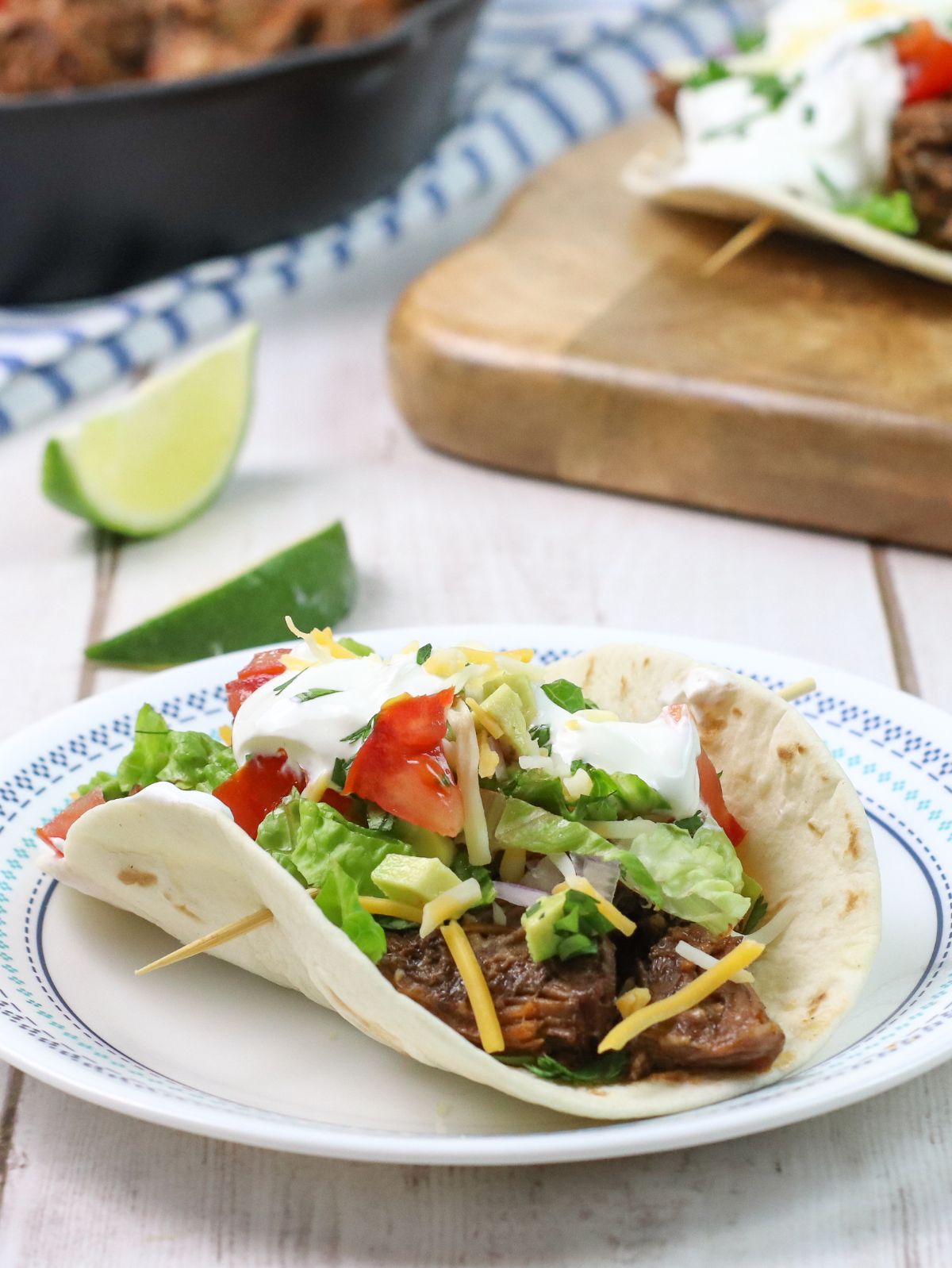 🥘 Equipment
Simple Ingredients for Barbacoa Beef Tacos
Get the full list of ingredients, with measurements, and step-by-step instructions at the bottom of the post in the printable recipe card.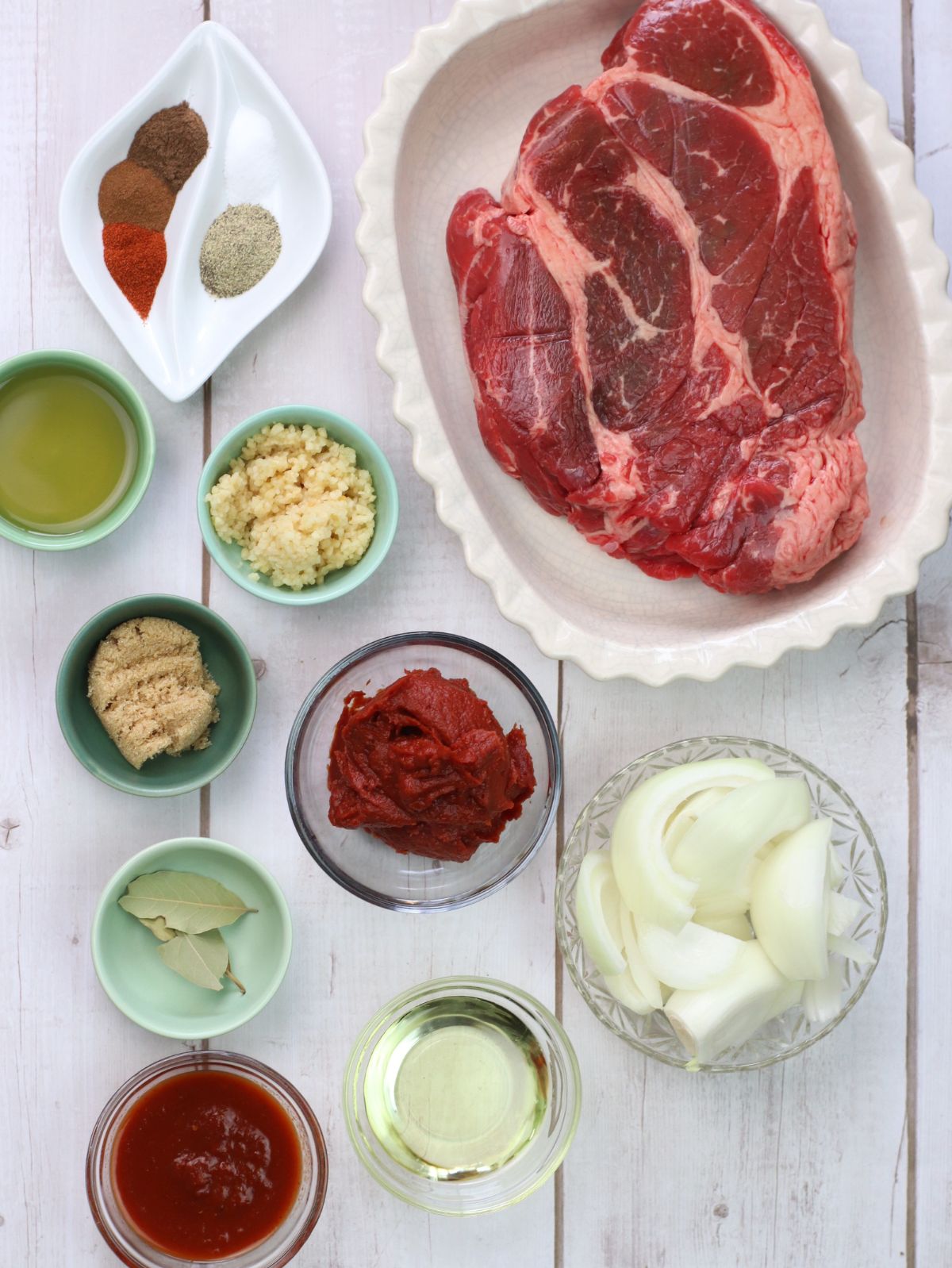 Beef- You will need 2-3 pounds of beef. There are several types of cuts you can choose from. Season the beef with salt and pepper. Use no-calorie vegetable spray to help sear the beef in the skillet.
Barbacoa Sauce- This is a simple sauce. Made with onion, garlic, tomato paste, adobe sauce, apple cider vinegar, and brown sugar. Season the sauce with paprika, cinnamon, cumin, and bay leaves.
Tortillas- Use street taco-style tortillas or any you prefer.
Serve with this homemade guacamole recipe.
🍳 How to Make
Get the full list of ingredients, with measurements, and step-by-step instructions at the bottom of the post in the printable recipe card.
Make the Sauce: Combine the tomato paste, adobo sauce, and apple cider vinegar in a small bowl. Add the spices.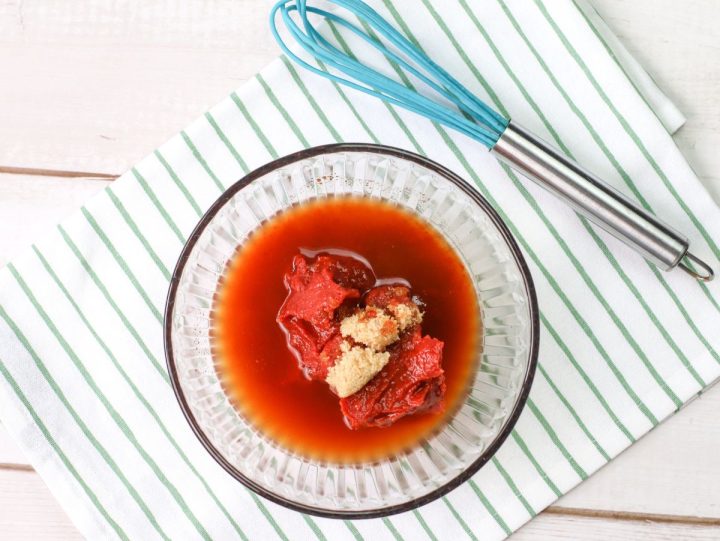 Sear the Beef: Salt and Pepper the beef. Use cooking spray and spray the pan. Sear the beef on all sides. Take it out of the pan.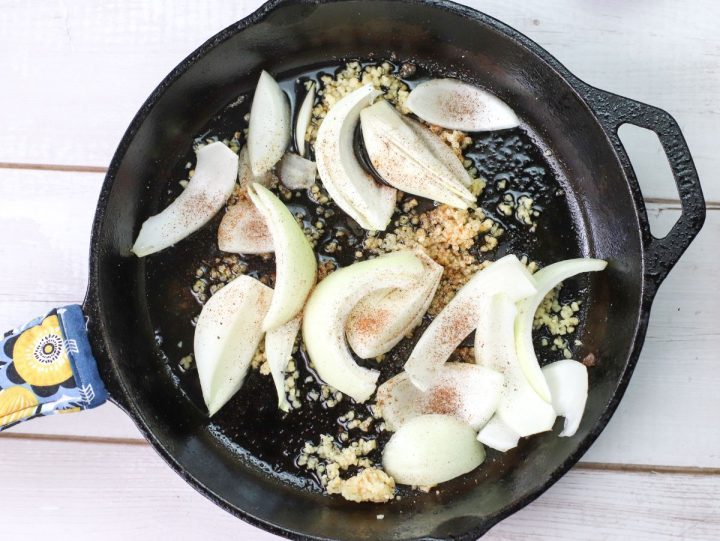 Make the Barbacoa: Add the onions and garlic and cook on medium-high heat until they are tender. Add the roast. Pour the sauce over top and slow cook until it is fork tender. Flip the beef every half hour.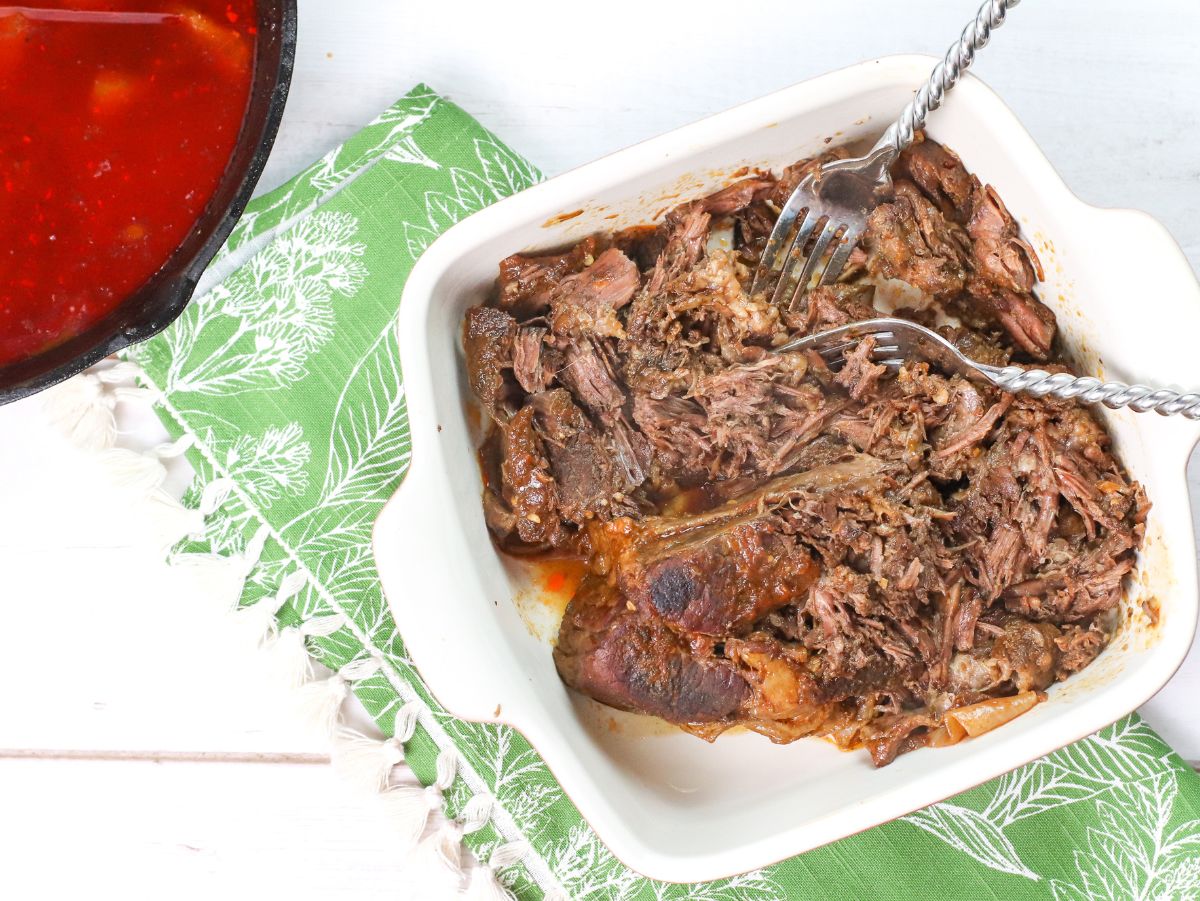 Shred the Beef: When the roast is done, place it on a cutting board or in a casserole dish and shred the beef. Add the beef back to the sauce. 
Serve with warm corn tortillas. Flour tortillas work as well.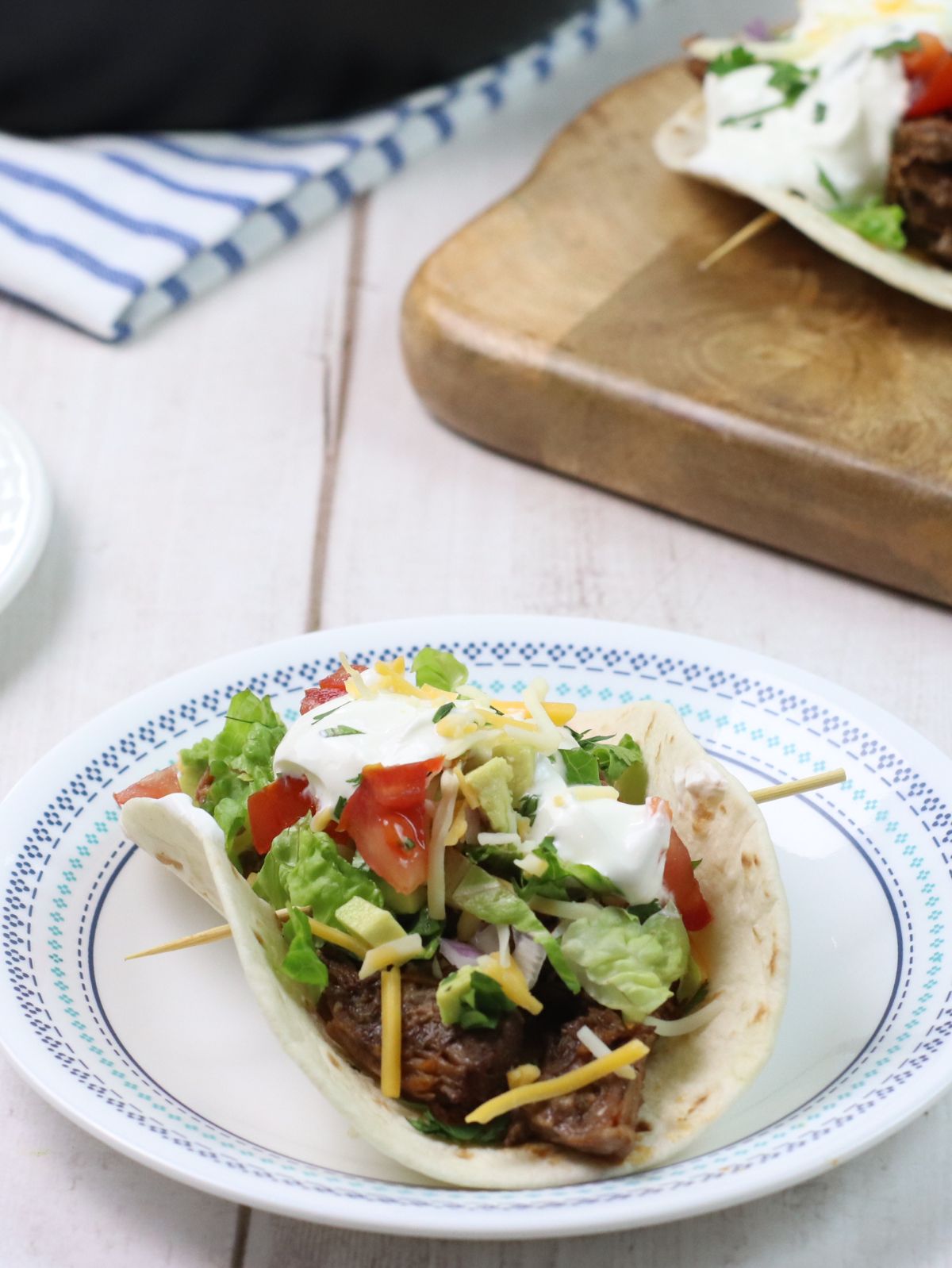 Hint: Want Other Ways to Cook Barbacoa? Because this beef needs to be cooked low and slow, it can be made in a pressure cooker or instant pot, a crock pot, or a dutch oven. The key is to use something that slow cooks the meat.  
🍽️ What to Serve on Top of Beef Barbacoa Tacos
Freshly diced onions for a crunchy bite.
Chopped cilantro to add a burst of freshness.
Tangy lime wedges to squeeze over the tacos.
Creamy and rich guacamole for a smooth contrast.
Crumbled queso fresco or shredded cheese for extra flavor.
Spicy salsa or pico de gallo to kick up the heat.
Pickled red onions for a zesty and colorful touch.
Sliced radishes bring a crisp texture.
Sour cream or Mexican crema to mellow out the flavors.
Shredded lettuce for a cool and crisp element.
Fresh jalapeño slices for those who crave extra spice.
Best Cuts of Beef for Barbacoa
Chuck Roast - Tender and flavorful for succulent barbacoa.
Beef Brisket - Offers rich and juicy results when slow-cooked.
Beef Cheek - Known for its gelatinous texture and deep flavor.
Short Ribs - Delivers a mix of tender meat and rich marbling.
Shank - Provides intense flavor and becomes tender with slow cooking.
Bottom Round Roast - A lean choice that turns tender when cooked low and slow.
Chuck Eye Roast - Similar to chuck roast, great for tender barbacoa.
Cross Rib Roast - A versatile option with a well-rounded flavor.
Plate Short Ribs - Offers a meaty, flavorful experience.
Flank Steak - Brings a leaner, yet tasty alternative to traditional cuts.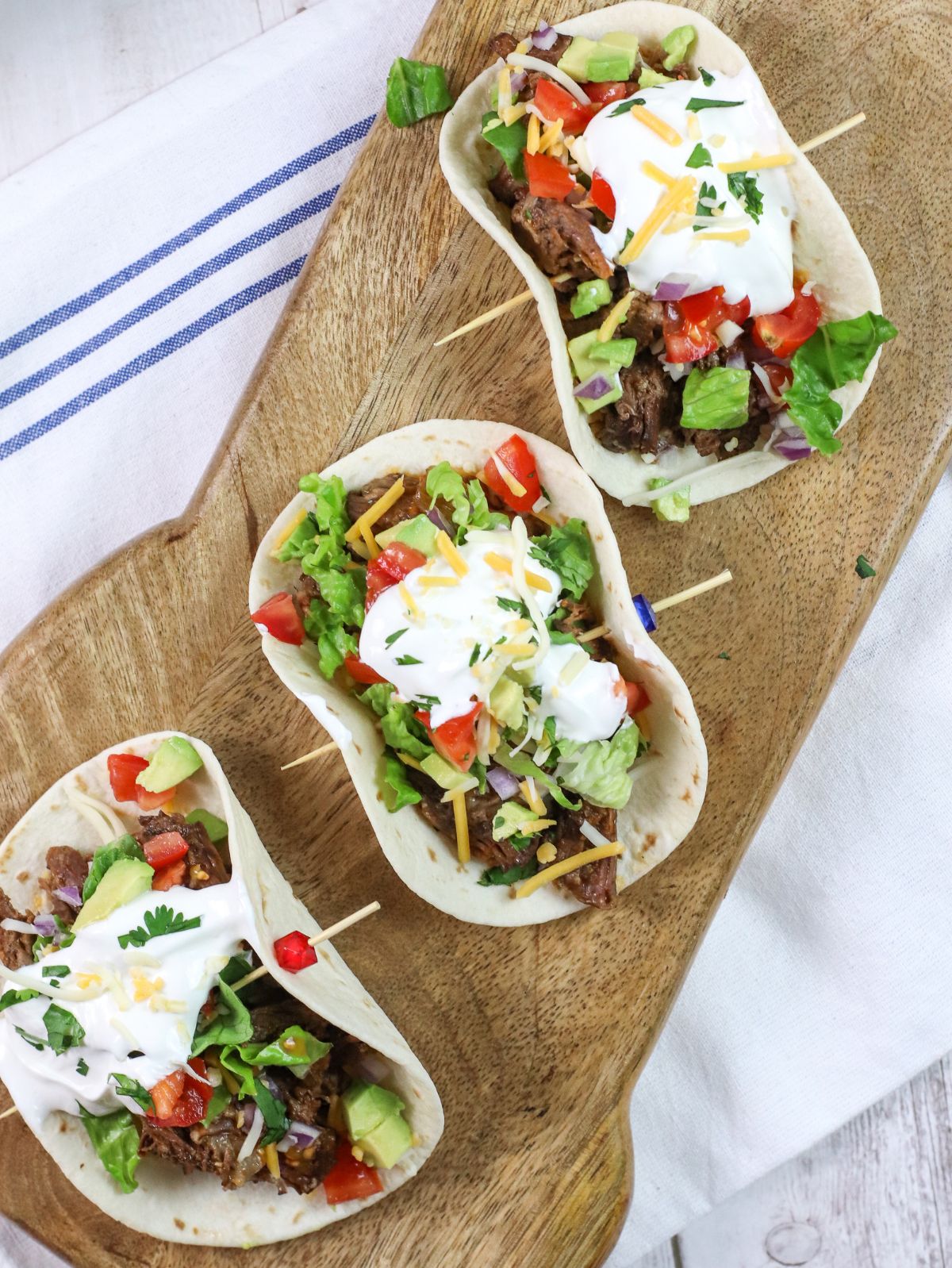 🥄 Ways to Use Barbacoa Other Than Tacos
Make a delicious barbacoa beef sandwich with your favorite bread and condiments.
Use it as a filling for empanadas or turnovers for a handheld delight.
Incorporate it into a flavorful stir-fry with colorful veggies and a tasty sauce.
Whip up a barbacoa beef chili, with green chiles, by adding it to your favorite chili recipe.
Make taco soup but replace chicken with leftover barbacoa.
Roll it up in a burrito along with rice, black beans, and other toppings. Also, make it into a burrito bowl.
Craft a savory barbacoa beef pizza using, 2 ingredient dough, as a unique and satisfying topping.
Mix it with macaroni and cheese for a comfort food fusion.
Create a mouthwatering barbacoa beef hash with potatoes and veggies for breakfast or brunch.
Serve it as a filling for tamales, adding an extra layer of flavor to a traditional dish.
Try a delightful taco salad featuring barbacoa beef as the star, layered with fresh greens, zesty toppings, and a drizzle of Creamy Avocado Dressing or your favorite dressing.
Experiment with barbacoa beef sliders, making mini sandwiches for a party or snack. Top with fresh cilantro. 
💭Tips for Shredding the Meat
Do you struggle to shred meat the right way? It can be a difficult and daunting task. It doesn't have to be. Here are some tips to make shredding meat easier.
Have the right tools: You want to shred meat, but don't have a knife? Grab your nearest cheese grater. It will work in a pinch!
Use a Mixer- If you have a mixer, consider using it to get the job done. It's faster and easier than shredding with your hands alone- especially if you're doing a lot of meat at once!
What kind of knife should I use? You want one that is sharp but not too thin so it glides through the meat. A serrated knife is ideal for this task, but there are other options as well.
Can I Use a Food Processor? A food processor can be used, but you may need to do it in batches depending on the size of your machine.
Do I Need To Add Liquid? Adding liquid will help make shredding go faster and more smoothly but it is not necessary.
What Temperature Should the Meat Be to Shred? It's best to shred meat when it is still cold and slightly firm. If you are shredding the meat straight from cooking it, you want to wait for it to cool slightly. If the meat is too hot it is hard to handle
🍶 Storing
How to Store Barbacoa? First, put the recipe in an airtight container or Ziploc bag. Either one works. Then, store it in the fridge until you're ready to use it again.
How Long Does Barbacoa Last? How long your recipe lasts depends on where you keep the leftovers. You can put the leftover Barbacoa in the fridge or freezer. In the fridge, it's good for about a week, but in the freezer, it can last up to 4 months.
Can Barbacoa Beef be Frozen? You can keep Barbacoa beef in the fridge for a week. But if you want it to last longer, freeze it. Put the meat in a freezer-safe container like a Ziploc bag, and remember to write the date on the bag.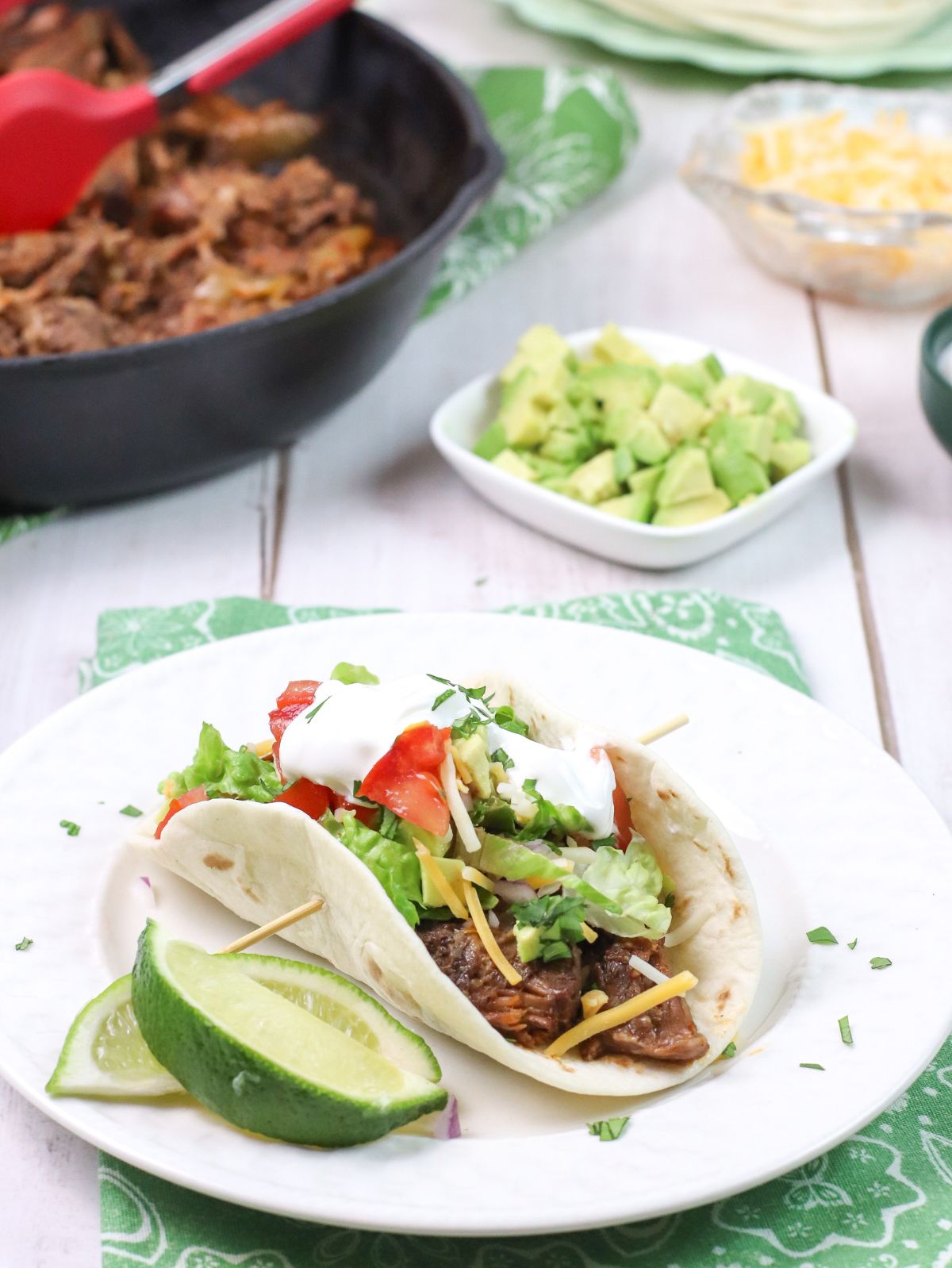 ❔FAQs
Does This Barbacoa Beef Taste Like Chipotle?
This Barbacoa isn't the same as Chipotle's beef. People often compare these tacos to Chipotle's recipes for the flavor. It might be similar, but not exactly the same.
What Size Tortillas Should Be Used for Tacos?
You can use any kind of shell for these Barbacoa Tacos. Bigger tortillas might be better for beginners to hold everything. Personally, I think street tacos work great for this recipe.
Can This Be Made in the Slow Cooker?
Absolutely, you can cook this beef in a slow cooker. Make sure to sear the beef and sauté the onions first. Then, put everything in the slow cooker and cook for 4 hours on high or 7 hours on low.
How Many WW Points
I don't count calories when I am making recipes. I do however count the points. So while I do not know the Barbacoa Taco Calories count, these tacos can be part of a Weight Watchers Dinner. Here are the Weight Watchers Points in Barbacoa Tacos.
These barbacoa street tacos come in at 5 points per taco on all plans. If you could find low-carb street taco tortillas you might be able to decrease the points but for me, I want them just like this. These point totals also do not include anything extra that you might add on top of the tacos.
This is a direct link to the recipe in the WW recipe builder app. You can see the recipe as well as add it to your daily food tracker. This only works for WW members in the US. If you are outside of the US, you will need to enter it manually.
Have you joined our Weight Watchers Facebook Group? Free recipes and support. Perfect for everyone!
Need to change the number of servings? You can click on the number of servings and change the number. This will adjust the ingredient measurements to what you need.
If you love this recipe, come back and give it 5 stars! ⭐️⭐️⭐️⭐️⭐️
More Delicious Recipes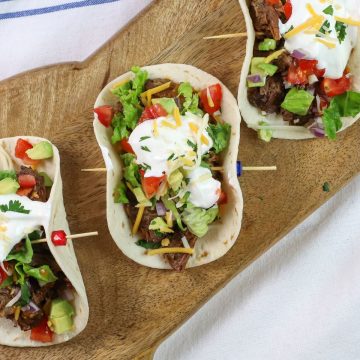 The Best Barbacoa Tacos
Delicious skillet barbacoa taco recipe with tender, flavorful meat. Easy to make at home. Perfect for Taco Tuesday or any day!
Ingredients
2

Tbsp

Adobo sauce

1

Tbsp

brown sugar

Unpacked

12

tortillas

I like for a low point these option Mission Street Tacos Corn tortillas

Vegetable oil cooking spray

1

large

Onion

1

Tbsp

Fresh Garlic

minced

1

cup

tomato paste

1/4

tsp

salt

1/2

tsp

Paprika

1/2

tsp

Ground cinnamon

1/2

tsp

Ground cumin

2

leaves

Bay leaf

2

lbs

Uncooked lean beef

trimmed of fat
Instructions
In a small bowl, add in the tomato paste, adobo sauce, apple cider vinegar, and apple cider vinegar. Whisk together until well incorporated. Whisk in the paprika, cinnamon, and cumin.

Season the meat on both sides with salt and pepper. In a 12-inch cast-iron skillet, add oil and heat over medium heat. Brown the roast on all sides. Remove the roast from the pan.

Add the onions and garlic to the skillet. Cook over medium heat, stirring occasionally until the onions just begin to brown, and the garlic becomes fragrant.

Add the roast back to the skillet. Add in the bay leaves and pour the sauce over the roast. Cook over low heat for 2.5-3 hours or until the roast is tender, turning the roast over every 30-45 minutes.

Remove the roast from the skillet and place it in a shallow pan or baking dish. Using two forks. Shred the meat. Return to the skillet. Serve with corn or flour tortillas and your favorite toppings!